November 20, 2012
Freshmen lead way to second straight win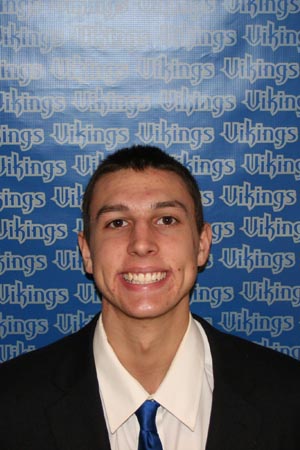 Freshman Ben Ryan had game highs in points (18) and rebounds (11) as Augustana beat St. Norbert 74-60 on Tuesday, November 20 in DePere, Wisconsin to move to 2-0 on the season.
DEPERE, Wis. - A pair of freshmen led the way as Augustana defeated St. Norbert 74-60 in non-conference men's basketball action on Tuesday, November 20 in DePere, Wisconsin. Ben Ryan (Washington HS, Washington, Ill.) dropped in 18 points and grabbed 11 rebounds while Griffin Pils (Libertyville HS, Libertyville, Ill.) had 16 points as the Vikings moved to 2-0 on the young season.

Augustana went on a 17-4 run early in the game when the contest was tied at 4-4 and after senior Brandon Kunz (Lake Zurich HS, Lake Zurich, Ill.) hit a field goal at 10:34, the lead was 21-8. Although St. Norbert did cut the lead to single digits on two occasions in the first half, the margin was still 10 (34-24) at intermission.

In the second half it was more of the same as the Vikings led by double digits most of the way with the biggest margin of 21 (70-49) coming with 2:30 left.

Ryan was good on seven of 10 from the field and four of four from the free throw line and of his 11 rebounds, seven came on the offensive end. He also had two assists and one steal. Pils was four of seven from the floor (four of six from three point range) and four of six from the free throw line. He had two rebounds also. The two freshmen were the only Augustana players in double digits for the night.

Sophomore Brandon Thompson (Galesburg HS, Galesburg, Ill.) had nine points and a team high four assists while adding three steals and one blocked shot. Sophomore Danielius Jurgutis (Downers Grove South HS, Darien, Ill.) had eight points and freshman Tayvian Johnson (United Township HS, East Moline, Ill.) chipped in with six rebounds.

Augustana destroyed the hosts on the boards, holding a 43-26 advantage including 18 offensive boards. The Vikings also blocked seven shots.

Once again the Vikings defensive effort was outstanding, limiting the Green Knights to just .346 (18-52) shooting from the floor.

Brandon Gries led St. Norbert (now 1-1 on the year) in scoring with 13 points as he was the lone Green Knight in double figures.

Augustana will finish the third, and final game, of its season-opening three game road swing on Saturday, November 24 with a 3:00 p.m. matinee at the University of Chicago.