November 19, 2012
Vikings hope to build on big first campaign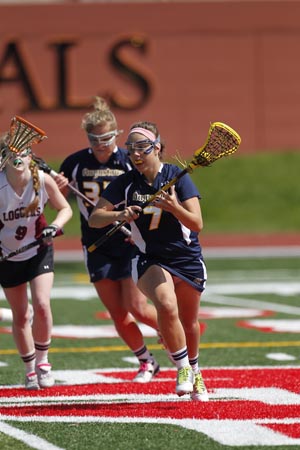 Sophomore Christina Letmanski is the top returning scorer for the Vikings heading into the 2012 season. She tallied 59 goals and had 22 assists for a total of 81 points as Augustana went 15-3 in its first season of varsity lacrosse.
It would be hard to imagine a debut season with better success than the one enjoyed by the Augustana women's lacrosse team in 2012. Head coach Sara Tisdale's Vikings came out of the gates with a sterling 15-3 overall record and they made a splash on the national scene as well, leading NCAA Division III in scoring offense (19.22 goals-per-game), scoring margin (+11.17 per game) and caused turnovers (13.61 per game).
"We really didn't know what last year would bring," said Tisdale. "We were so young with all those freshmen on the roster and in the fall we struggled a bit. When the spring season opened we just caught fire and were able to maintain it throughout the year."
Not only did Augustana lead the nation in scoring offense, scoring margin and caused turnovers, but the Vikings were third in points (507), 12th in winning percentage (.833), 16th in scoring defense (8.06) and 18th in draw controls per game (15.89). Several Augustana players made big splashes in the individual national rankings as well and sophomore goalkeeper Sarah Osier (Naperville Central HS, Naperville, Ill.) is the top returning player who was ranked nationally. She was 20th in goals-against-average at 8.28.
"We lost some productivity on the offensive end from a year ago," said Tisdale. "But the real confidence boost for this team is the fact that our defense returns intact. We are going to have to have some people pick it up on the offensive end but I don't think that will be too hard."
The offense lost leading scorer Hillary Kargl and third leading scorer Hannah Dickman off last year's team. Kargl scored 97 goals and had 23 assists for 120 points and was second in the nation goals, third in goals-per-game (5.39), fourth in points-per-game (6.67) and seventh in total points (120). Dickman scored 51 points and had 37 assists for 88 total points. She was 22nd in NCAA Division III in assists.
Despite those losses, the cupboard is not bare as sophomore Christina Letmanski (Glenbard West HS, Wheaton, Ill.) is back after scoring 59 goals and dishing out 22 assists for 81 total points. Sophomore Kate Zisser (Kirkwood HS, St. Louis, Mo.) scored 17 goals with 12 assists for 29 total points. Freshmen Emily Handrahan (Lake Zurich HS, Hawthorne Woods, Ill.) and Kaylee Nolan (Carl Sandburg HS, Orland Park, Ill.) will be counted on to pick up some of the slack left by the departure of Kargl and Dickman. Sophomore Kelly Molloy (Glenbard West HS, Glen Ellyn, Ill.) and freshman Kendall Maduro (Neuqua Valley HS, Naperville, Ill.) were impressive in the fall workouts.
Three regulars are back in the midfield and all are sophomores: Kelly Stelzer (Wheaton Warrenville South HS, Wheaton, Ill.), Allie Roehrenbeck (Columbus Academy, Gahanna, Ohio) and Gina Filippo (Libertyville HS, Green Oaks, Ill.). Stelzer scored 34 goals with 16 assists while Roehrenbeck had 31 goals and 22 assists a year ago. Filippo added seven goals and 10 assists. Joining them in the midfield will be sophomores Nattali Shelton (Wheaton-Warrenville South HS, Wheaton, Ill.) and Alex Palmisano (Wheaton Warrenville South HS, Wheaton, Ill.) and talented freshmen Rebecca Pollard (Westfield HS, Carmel, Ind.) and Shelby Cosman (Marian Catholic HS, St. John, Ind.).
Three out of four starters return on defense and Tisdale thinks this group will be a great foundation while the offense finds its stride. Sophomores Anna Kyllo (St. Croix Lutheran HS, Bloomington, Minn.), Bridget Conniff (Benet Academy, Downers Grove, Ill.) and Emily Pavlik (Lyons Township HS, LaGrange, Ill.) were key players for a defense that allowed an average of just 8.01 goals a game last year. Junior Meredith Goodale (New Trier HS, Glencoe, Ill.) and sophomore Barbara Vega (Marian Catholic HS, Flossmoor, Ill.) along with freshmen Cori Duncan (York HS, Elmhurst, Ill.) and Kaitlin Hightower (Providence HS, Matthews, N.C.) will provide quality depth.
Osier will be in goal after stopping 139 shots a year ago and posting an 8.28 goals-against-average. Freshman Jenna Hofmann (Columbine HS, Littleton, Colo.) will battle Osier for playing time at goalie.
"Last year we played a pretty fast, up-tempo style and it served us well," said Tisdale. "This year I think we will be even more up-tempo and because of that I think we can match our offensive production of 2012. I think that during the fall we were much more advanced that we were a year ago at this same point."
The Vikings will join the Midwest Women's Lacrosse Conference this spring after playing as an independent in their first year of existence. Joining them will be Beloit, Concordia-Wisconsin, Carthage, Fontbonne, Mt. St. Joseph, North Central, Aurora, Benedictine and Dubuque.