Alumni gift supports music and athletics
November  20, 2012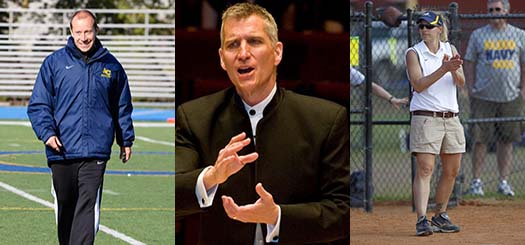 Scott Mejia, left, Jon Hurty, center, and Kristina Kistler are all being honored
by the Gassman family for their involvement in music and athletics.
Thanks to a multi-million dollar gift from the estates of Marvin and Marian Gassman, Augustana has announced that Dr. Jon Hurty will be honored as the Gassman Family Professor, and both Scott Mejia and Kristina Kistler will be honored as a Gassman Family Coach in Women's Athletics.
Marvin '33 and Marian Hoffbauer '32 Gassman left gifts to the college to align with their passions. She played on the women's basketball team during her years at Augustana and went on to be an avid athlete throughout her life. Marvin Gassman, a lover of music, played the trumpet at Augustana and sang in the Wennerberg Chorus.
According to President Steven Bahls, extra-curricular opportunities have long been an important part of the residential liberal arts experience Augustana provides to students. "Thanks to the Gassmans' generosity, the college is strengthened in its effort to continue offering excellent experiences for students both inside and outside the classroom," he said.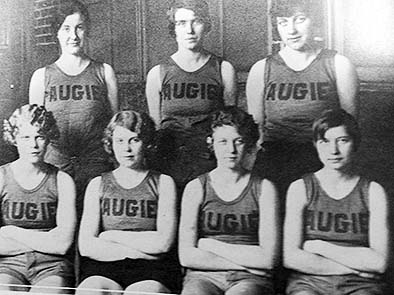 Marian (Hoffbauer) Gassman
is in the bottom row, far right.
This photo of the Amazons
swim team comes from
the 1930 Rockety-I.
President Bahls added, "The Gassmans left a lasting legacy for our students based on their love for Augustana, women's athletics and music education. Plus they provided a way to recognize two coaches and one professor for their outstanding efforts in mentoring and teaching Augustana students."
Dr. Jon Hurty joined the Augustana faculty in 1996 and is professor and director of choral activities. He directs the Augustana Choir and the Augustana Chamber Singers, and he teaches conducting and is co-chair of the music department. Dr. Hurty also directs the adult choir at St. Paul Lutheran Church in Davenport and is the conductor and artistic director of Quad City Choral Arts. He serves as the conductor of the Handel Oratorio Society at Augustana.
Scott Mejia currently is in his 12th year at Augustana. During his first six seasons, he coached both men's and women's soccer. In 11 seasons, he has made his mark on the Vikings soccer program, compiling a record of 68-37-6 in six years with the men and 148-57-16 with the women. The Augustana women have compiled a 49-21-7 record in College Conference of Illinois & Wisconsin (CCIW) play under Mejia.
Kris Kistler has been the head softball coach at Augustana College for the past 13 years, and she has established the Vikings' reputation in both the CCIW and NCAA Division III. She has guided the Viking softball team to 13 straight non-losing seasons. Three times in the last nine years, Kistler has led the Vikings to the CCIW tournament championship and four times her teams have qualified for the NCAA Division III national tournament.
With this new honor, Mejia and Kistler, along with Augustana's wrestling coach Eric Juergens, are unique among their CCIW coaching peers. They are the only coaches in the CCIW to have endowed positions.
Marian Hoffbauer was born in Buffalo, Iowa, and attended Davenport Central High School. She met Marvin Gassman, from Akron, Iowa, at Augustana. They married after graduation. The Gassmans operated a family construction business and lived much of their lives in Dallas. Marvin died in 1999, and at the age of 100, Marian died on Aug. 17, 2012. Prior to this most recent gift, Marian provided funding for the women's and gender studies resource room in Old Main, and the couple funded an endowed scholarship at the college.
Lynn Jackson, vice president of advancement, said, "I had the honor of attending Marian's 100th birthday celebration last December, and her active life was evident even then. Her party included horse-drawn carriage rides as horses and sports were her passion. She still remembered Augustana with great affection, recalling all the stairs on campus and her good years here."
Jackson added, "She was an amazing woman."
Sam Schlouch
Senior Communication Director
(309) 794-7833
samschlouch@augustana.edu