Tello-Rodriguez honored as a Lincoln Laureate
November  19, 2012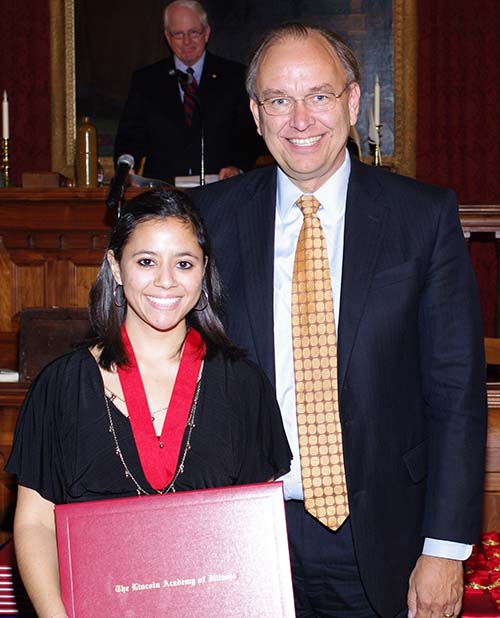 Astrid Tello-Rodriguez and Augustana President Steven Bahls
The Lincoln Academy of Illinois recently honored outstanding senior college students during the annual Student Laureate Convocation, at the Old State Capitol State Historic Site in Springfield. The ceremony recognized a top student from each college and university in Illinois, with Astrid Tello-Rodriguez, of Milan, Ill., representing Augustana College.
Tello-Rodriguez, a senior majoring in psychology, said, "I was very honored to have been chosen, and the ceremony in Springfield made that honor even greater for me."
She explained, "The ceremony took place in the Old Capitol building, and the students and their families were given a tour of the building before the ceremony. The ceremony itself was very cool; the speeches reminded me to be proud of my accomplishments. Most importantly, the speeches and stories were a reminder and encouragement to continue working for justice and equality."
Tello-Rodriguez made the trip to Springfield with her mom, Maria Martel, and President of the College Steven Bahls, who nominated her for the honor.
Her college accomplishments include being named to the dean's list every term of her enrollment. She has participated in study abroad in Guatemala, and she served an internship with a transitional housing program for homeless youth in Moline, while also helping with a therapeutic recreation program for elementary-aged children.
She has served as a campus leader, previously serving as vice president of Latinos Unidos and historian for Black Student Union. She co-chaired multicultural orientation programs for new students.
Tello-Rodriguez has been honored with Augustana's Presidential Scholarship, the Eddie Mabry Award and Ralph Waldo Hansen Scholarship, as well as the National Education for Women's Leadership Award. She is a member of the Psi Chi (psychology) and Sigma Alpha Pi (leadership) honor societies.
Born in Venezuela, Tello-Rodriguez came to the United States at the age of 6, living first in Rock Island and then Iowa City.
Dr. Evelyn Campbell, dean and vice president of student services, said, "I have rarely seen a student as deliberate as Astrid has been about using a college education to foster growth as a whole person."
Dr. Campbell added, "Astrid has studied hard and has put what she has learned to the test by going out into the community and working with the populations she hopes to serve one day. She exemplifies the best of an Augustana education because she has been able to identify her passion and develop her skills through a combination of in-class and out-of-class experiences."
Tello-Rodriguez said her proudest accomplishment at Augustana has been learning to "accept and overcome academic and life challenges, in addition to learning the value of taking certain risks."
She continued, "I know this might sound like a broad accomplishment, but it applies to academic and personal aspects of my life which are very important to me; I don't know if I could have gained these accomplishments without what I've learned, without my experiences, or without the relationships I've formed and support I've received at Augustana."
As she prepares for the future, Tello-Rodriguez plans to earn a master's in social work, saying "I do know that I want to work in some capacity with children and with international social service programs."
The Lincoln Academy of Illinois was established in 1964 to recognize the outstanding contributions made by living Illinois citizens. The Lincoln Academy began the Student Laureate Award Program in 1975 to honor senior college students for their overall excellence in curricular and extracurricular activities.
Augustana College will host the 49th Convocation and Investiture of the Lincoln Academy of Illinois on April 13, 2013, in Centennial Hall in Rock Island. The convocation will be open to the public, and co-hosted by Steve and Jane Bahls, representing Augustana College, and Sam and Marsha Allen, representing Deere & Company.
Sam Schlouch
Senior Communication Director
(309) 794-7833
samschlouch@augustana.edu