November 17, 2012
Six Vikings place at Concordia Open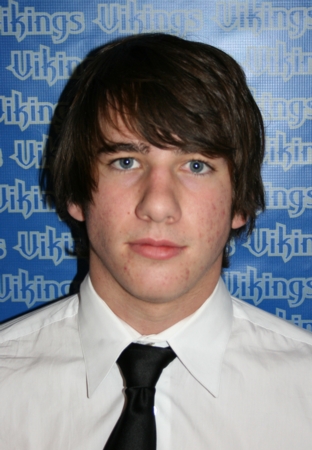 Sophomore Thomas Reyhons was one of six Augustana place-winners at Saturday's Concordia Open in Mequon, Wisconsin. Reyhons took seventh place in the 157-pound weight class.
MEQUON, Wis.-Sophomore Thomas Reyhons (Assumption HS, Davenport, Iowa) was one of a half-dozen Augustana wrestlers who placed on Saturday as the Vikings competed at the Concordia Open. A trio of coach Eric Juergens' grapplers earned fourth-place finishes, while Reyhons took seventh at 157 pounds. No team scores were compiled.
Junior 125-pounder Jacob Scholten (Rockford HS, Grandville, Mich.), senior 174-pounder Matt Burns (Naperville Central HS, Naperville, Ill.) and junior 184-pounder Jordan Richardson (Grandville HS, Wyoming, Mich.) each took fourth in their respective weight classes. Freshman Jimmy Panozzo (Sandburg HS, Orland Park, Ill.) finished sixth at 125, while Reyhons and sophomore 285-pounder John Schraidt (Riverside-Brookfield HS, Riverside, Ill.) each finished seventh to round out the Viking place-winners.
Scholten opened with consecutive major decisions over Dubuque's Jared Smith (14-3) and Elmhurst's Eric English (11-2). He advanced to the semifinals with an 11-5 win over Joseph Her of Wisconsin-Parkside, but was pinned by unattached Lillashawn Coleman in 3:22. He came back to defeat teammate Panozzo 10-5 before falling to top-seeded Gilberto Camacho of Wartburg 6-0 in the third-place match.
Burns, after a first-round bye, advanced with a 2-1 win over Triton's Brendt Madison and then by forfeit before pinning Thomas Decker of Wisconsin-Whitewater in 4:48 to reach the semifinals. There, Montrall Johnson of Wisconsin-Parkside edged him by a 10-9 score. He bounced back with a 3-1 win over Josh Anthony, also of UW-Parkside, before falling 3-2 to Elmhurst's Danny Balderas in the third-place match.
Richardson received a first-round bye before winning back-to-back matches by fall. It took him just 12 seconds to dispatch Loras' Matthew Palmershein and 1:10 to pin Tom Mltrenga of Illinois State. Top-seeded Joe Rau of Elmhurst defeated Richardson 9-2 in the semifinals, but he came back with another pin, planting Wabash's Mark Myers in 2:24. In the third-place match, Richardson was pinned in 1:38 by second-seeded Matt Gille of UW-Parkside .
Panozzo dropped his first-round match 12-5 to second-seeded Sean Ambrosio of the host school. He won five straight matches in wrestlebacks before running into teammate Scholten. He scored a 15-2 major decision over Alec Welse of Wabash and followed that with wins over Elmhurst's Tyler Price (9-5), Wabash's Marc Escobedo (10-9), Lance Fabry of Wisconsin-Stevens Point (8-3) and Wartburg's Robert Boesch (6-4). After falling 10-5 to Scholten, he dropped a 4-2 decision to UW-Parkside's Jacob Papke in the fifth-place match.
Reyhons started with consecutive 5-0 wins over Cory Miklas of Milwaukee School of Engineering and Russ Gossen of Loras before pinning Wartburg's Nicholas Michael in 5:25. He dropped a 10-2 quarterfinal decision to Wheaton's Mark Savonk. In wrestlebacks, he scored a 9-7 win over UW-Parkside's Derek Davison before being pinned in 4:08 by Jamey Simmons of UW-Stevens Point. He pinned Chicago's Tim Layton in 2:29 to take the seventh-place match.
After a first-round bye, Schraidt scored consecutive falls over Tritons' Scott Ammons (1:00) and Wisconsin-Platteville's Cody Soderstrom (3:32). In the quarterfinals, he fell 7-2 to Jordan Koranda of UW-Stevens Point. He came back to score a 12-5 win over Wabash's Abraham Hall before being pinned by Benjamin Nagle of Wartburg in 2:07. He claimed seventh place with a 19-4 technical fall over Soderstrom.
Juergens' crew will next be in action on December 6, hosting Simpson and Central at Carver Center starting at 6:30 p.m.