November 17, 2012
Vikings edged by 17th-ranked Washington at IWU Invite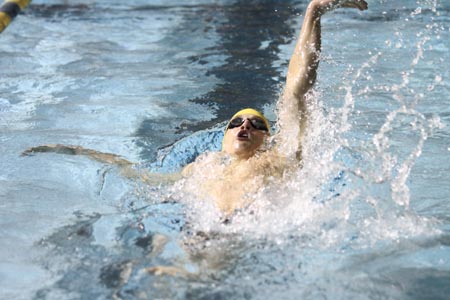 Sophomore Aaron Holt won two events and was second in two others Saturday as Augustana narrowly missed beating 17th-ranked Washington University at the six-team Illinois Wesleyan Invitational in Bloomington, Illinois.
BLOOMINGTON, Ill. - Sophomore Aaron Holt (Mount Vernon HS, Mount Vernon, Ill.) was a double winner Saturday as Augustana missed the team title at the Illinois Wesleyan Invitational by the narrowest of margins. 17th-ranked Washington University edged the Vikings 135-134 to win in a six-team field.
Holt swam a :53.84 to take the 100 butterfly and a :55.20 to win the 100 backstroke. Viking freshmen took second in each event, with David Sommers (Westlake HS, Thousand Oaks, Calif.) finishing the 100 butterfly in :54.10 and Felipe Hernandez (United Township HS, East Moline, Ill.) swimming a :57.84 in the 100 backstroke. In addition, freshman Kyle Johnson (Shadow Mountain HS, Phoenix, Ariz.) (:58.11) and senior Christopher Greaves (Morris HS, Morris, Ill.) (:59.07) were third and fifth, respectively, in the 100 backstroke and sophomore Michael Duy (Marmion Academy, Aurora, Ill.) (:56.46) finished fifth in the 100 butterfly.
Junior Daniel Hinck (Harlem HS, Loves Park, Ill.) swam a winning 1:49.23 in the 200 freestyle, with Duy (1:50.25) taking second and Sommers (1:51.40) fourth.
Holt added an individual second and a relay second to his two wins. In the 50 freestyle, he swam a :22.32, with Hinck (:23.33) and Greaves (:23.43) taking fifth and sixth. In the 200 freestyle relay, those three teamed with Duy for a second-place 1:29.63.
Sophomore Josh Wielenga (School of Environmental Study, Apple Valley, Minn.) delivered a pair of second-place finishes as well, compiling a score of 187.65 in the three-meter diving event and 203.90 at one meter.
Augustana's 200 medley relay team of Johnson, freshman Adam Bernardi (Boylan Catholic HS, Belvidere, Ill.), Sommers and Hinck garnered a third-place finish with a time of 1:43.15.
Bernardi added fourth-place individual finishes in the 100 breaststroke (1:05.40) and 200 individual medley (2:05.34). Junior Ryan Chaney (Pleasant Valley HS, Bettendorf, Iowa) was eighth in the 100 breaststroke with a 1:09.19.
Duy (5:05.23) and Sommers (5:10.00) were sixth and seventh in the 500 freestyle and Greaves (:50.79) and Hernandez (:51.38) sixth and eighth in the 100 freestyle.
After Washington and the Vikings, host Illinois Wesleyan was third in the team standings with 71 points, followed by Illinois College (60), Millikin (37) and Eureka (34).
On Friday, November 30, the Vikings travel to Grinnell, Iowa to take on the Pioneers of Grinnell College in a dual meet scheduled for a 9:00 a.m. start.