November 17, 2012
Myers a double diving winner at IWU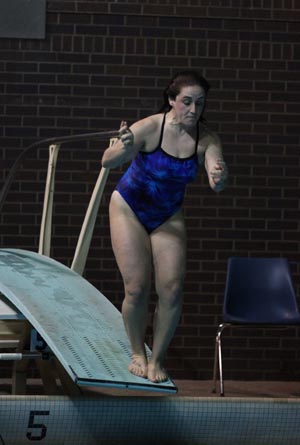 Junior Helen Myers captured both diving events Saturday, helping Augustana to a third-place team finish at the Illinois Wesleyan Invitational in Bloomington, Illinois.
BLOOMINGTON, Ill. - Junior Helen Myers (Pecatonica HS, Rock City, Ill.) swept the diving events Saturday to help Augustana finish third at the Illinois Wesleyan Invitational. Meyers won the one-meter event with a score of 202.40 and at three meters with a score of 227.5. The Vikings scored 114 points to finish third among six teams.
Augustana freshmen Adelia Clark (Linn-Mar HS, Marion, Iowa) and Megan McGregor (Lincoln-Way East HS, Mokena, Ill.) claimed third and fourth place in both diving events. Clark scored 185.95 in the one-meter and 162.40 at three-meters, while McGregor posted scores of 155.05 and 150.70, respectively.
Junior Hillary Ferguson (Waubonsie Valley HS, Naperville, Ill.) had the top finish among Vikings swimmers, taking third in the 50 freestyle with a time of :25.72. Senior Alexandra Piper (Coal City HS, Coal City, Ill.) was sixth in the same event with a time of :26.90.
Augustana went four, five and six in the 200 individual medley. Freshman Emma Novak (Eden Prairie HS, Eden Prairie, Minn.) was fourth in 2:19.62, followed by seniors Emma Regnier (Grayslake North HS, Lake Villa, Ill.) (2:23.64) and Emily Timmons (West Aurora HS, North Aurora, Ill.) (2:26.51). Regnier was also fourth in the 100 breaststroke with a time of 1:12.96 and seventh in the 100 butterfly in 1:04.30. Timmons swam a 1:17.19 to take eighth in the 100 breaststroke.
Senior Hollyann Kabbe (Fenton HS, Bensenville, Ill.) garnered a fifth-place finish in the 100 backstroke, finishing in 1:10.84. Sophomore Jamie Graf (Lincoln-Way Central HS, Downers Grove, Ill.) was seventh in 1:11.97.
Ferguson (:57.68) and Piper (58.55) were seventh and eighth, respectively, in the 100 freestyle.
Piper, senior Molly Clennon (Benet Academy, Naperville, Ill.), Novak and Ferguson teamed up to take fourth in the 200 freestyle relay. The quartet finished in 1:45.87. In the 200 medley relay, it was Kabbe, Regnier, Novak and Ferguson earning a fifth-place finish in a time of 1:59.79.
Washington University was the team champion with 149 points. Host Illinois Wesleyan took second with 121, followed by Augustana, Millikin (51), Illinois College (24) and Eureka (22).
On Friday, November 30, the Vikings travel to Grinnell, Iowa to take on the Pioneers of Grinnell College in a dual meet scheduled for a 9:00 a.m. start.