November 17, 2012
Beinborn gets first win 75-63 over Robert Morris-Springfield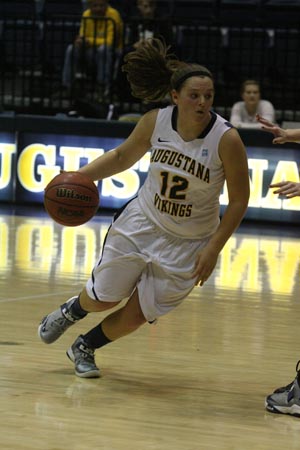 Junior guard Molly Etheridge scored a career-high 26 points Saturday night to lead Augustana to a 75-63 win over Robert Morris-Springfield at Carver Center. The win was the first in the head coaching career of Mark Beinborn.
ROCK ISLAND, Ill. - Junior guard Molly Etheridge (Normal Community HS, Bloomington, Ill.) dropped in a career-high 26 points and Augustana outscored Robert Morris-Springfield 38-12 over the last 10 minutes Saturday to come away a 75-63 winner at Carver Center. The win was the first in Mark Beinborn's head coaching career and evened the Vikings' record for the year at 1-1. RMU-Springfield fell to 1-2.
Augustana trailed 51-37 with ten minutes left when Etheridge drained one of her three three-point field goals on the night to cut the deficit to 11. The visitors still led 55-48 inside the seven-minute mark before another Etheridge trey cut the lead to four - as close as the Vikings had been since the 4:00 mark of the first half. Her runner at 5:02 cut the deficit to two and a basket by freshman Marissa Pezzopane (Addison Trail HS, Wood Dale, Ill.) with 3:12 left got Augustana even on the scoreboard for the first time since leading 8-7 four minutes in.
After a pair of Etheridge free throws gave the Vikings the lead, the Eagles' Traci Osby tied it one last time with two of her own. However, over the last 2:36 Augustana closed with a 15-3 run started, not surprisingly, by another Etheridge bucket. Junior Amy Hicks (Rockford Christian HS, Rockford, Ill.) hit three free throws and sophomore Valerie VanRoeyen (Libertyville HS, Grayslake, Ill.) four over the final 1:12 to ice the victory.
After shooting .281 from the field and committing 16 turnovers in the first half, the Vikings trailed 37-28 at intermission. However, they coughed it up just four times in the second stanza and improved their field goal shooting to .419, including four of 12 three pointers. 19 of Etheridge's points came after halftime. The team's defensive performance was better in the second 20 minutes as well, as the Eagles shot just .290 from the field and .200 from beyond the arc after hitting .444 and .800, respectively, in the opening half.
Etheridge finished nine of 16 from the field, including three of seven from long distance, and converted five of six free throw attempts. She also had five rebounds and three assists. Senior guard Gianna Pecora (Downers Grove South HS, Darien, Ill.) added 11 points, three assists and three steals. Hicks had 10 points to go along with a team-high five assists. Beinborn's other two starters, junior Jessica Baids (West Chicago HS, Carol Stream, Ill.) (nine points, eight rebounds and three assists) and sophomore Kayla Boers (Oswego East HS, Oswego, Ill.) (six points and eight rebounds) had nice all-around games as well. Osby led the Eagles with 15 points.
The Vikings are next in action on Wednesday, November 21, when they travel to Galesburg, Illinois to face Knox. Tip-off is scheduled for 6:00 p.m.