November 16, 2012
After successful debut men's lacrosse anxious for 2013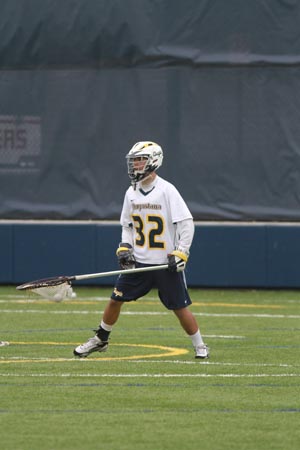 Goalkeeper Cody Burgdorff finished the season in 2011 with a 6.27 goals-against-average, which was eighth best in NCAA Division III. His .611 save percentage also put him in the top 20 nationally.
By any definition the 2012 men's lacrosse season at Augustana was a success. Head coach Kyle Hart's team had a very productive inaugural campaign as the Vikings put together an 8-6 overall record and christened a brand-new venue in Thorson-Lucken Field.
"The first season was a success and we want to build upon that this year," said Hart. "I am excited about 2013. We learned some things as a team last year and one thing we can stress right now is the importance of the off-season. This is a year-round program and we have to be ready for the competitive schedule we play."
Not only did the Vikings put together a winning season but they also showed up in the NCAA Division III national statistical ranking in three individual and one team category. Goalkeeper Cody Burgdorff (Peak-to-Peak HS, Lafayette, Colo.) finished the year ranked eighth in goals-against-average at 6.27 and his save percentage of .611 was 17th. Leading scorer Jesse Nagelberg (St. Charles East HS, St. Charles, Ill.) finished 23rd in goals-per-game with a mark of 2.79. As a team, Augustana was third in scoring defense while allowing just 5.14 goals-per-game.
"One of our team goals last year was to be the best first-year program in the region and I think we accomplished that," said Hart. "This year we have a new challenge as we move into a conference for the first time. Our goal will be to win the league but the competition will be stiff."
The Vikings will join the Midwest Lacrosse Conference in 2013 and will join Carthage, Aurora, Benedictine, Elmhurst, Mt. St. Joseph, Defiance, Hanover, Fontbonne, Concordia-Wisconsin and Milwaukee School of Engineering. Last year Hart's club played six of those teams with wins over Hanover, Fontbonne and Milwaukee School of Engineering and losses to Carthage, Aurora and Concordia-Wisconsin.
Only one starter was lost a year ago so Hart has plenty of experience returning heading into 2013. At the attack position sophomores Colin Haley (St. Charles East HS, St. Charles, Ill.), Nagelberg and Brad Anderson (Arrowhead HS, Hartland, Wis.) are the returning starters. Haley had 13 goals and four assists last year while Nagelberg led the team with 39 goals and five assists for 44 points and Anderson chipped in with four goals and three assists for seven points.
This year Nagelberg and Anderson might be shifted to the midfield and Haley could be joined by freshmen Kevin Gleason (Loyola Academy, Chicago, Ill.) and Scott Davis (St. Thomas Aquinas HS, Overland Park, Kansas). Sophomore John Pagliarello (Heritage HS, Littleton, Colo.) and freshman Andrew Miller (Waukesha North HS, Waukesha, Wis.) will be in the mix as well. Two others who contribute on the attack are face-off specialists J.G. Saunders (The Calverton School, Aquasco, Md.) and Ryan Nakamoto (Naperville Central HS, Naperville, Ill.) - both sophomores.
The midfield area has sophomores Tim Fennelly (Littleton HS, Centennial, Colo.), Doug Barrie (Lake Forest HS, Lake Forest, Ill.) and Vincent Giglierano (Archbishop Mitty HS, San Jose, Calif.) returning on offense and junior Keegan Horack (Illinois Valley HS, Chillicothe, Ill.) and sophomores Jeremy Gottardo (Jacobs HS, Algonquin, Ill.) and Ryan Nakamoto (Naperville Central HS, Naperville, Ill.) back on defense.
This year Nagelberg could switch to midfield and he will be joined by freshman Alex Crescenti (Jacobs HS, Algonquin, Ill.), Fennelly, Barrie, Giglierano, Anderson, sophomore Evan Chikeles (Hoffman Estates HS, Hoffman Estates, Ill.) and freshman Austin Marrison (Palatine HS, Palatine, Ill.). Fennelly was the second leading scorer for the Vikings in 2012 and she scored 18 goals with four assists while Barrie had 14 goals and three assists. The defensive midfield could consist of sophomore Ty Benson (Libertyville HS, Libertyville, Ill.), freshman Daniel Fulton (Denver East HS, Denver, Colo.), Horack, freshman Jonathan Bryk (Fremd HS, Palatine, Ill.) and Saunders. Saunders had 10 goals and four assists a year ago.
Two starters, junior Zach McGinnis (New Trier HS, Kenilworth, Ill.) and sophomore Brian Donohoue (Littleton HS, Centennial, Colo.) are back on defense. Joining McGinnis and Donohoue will be Gottardo, sophomore Jake Self (Marina HS, Huntington Beach, Calif.), sophomore Andrew Jurewicz (St. Charles East HS, St. Charles, Ill.) and freshman Ryan Sullivan (Palatine HS, Palatine, Ill.).
Burgdorff had a nice season in goal as a freshman as he recorded 110 saves and posted a 6-6-0 record. Freshman Jack Peters (Maine South HS, Park Ridge, Ill.) will be in the mix as well.