Deck the Halls of Augustana
Although you may yet have flowers in your window box and robins in the yard, Christmas is coming. Tonight you can get the first lutfisk dinner of the season on campus, and Amahl & the Night Visitors opens this weekend. It's nearly time to deck the halls of Augustana.
To spread the cheer to alumni and friends, and give them a behind-the-scenes view of the college during this season, we want to capture your office- or department-decorating activities on video. Do you invite colleagues to roll out tinsel or place the star? Do you decorate for Christmas, Kwanzaa or the High Holy Days? Is it a solemn gathering, or are you jolly? Share it with the larger Augustana community!
So before you lug out the specially marked boxes and send someone for more lights, let Andrew Petersen in web services know the day and time when you plan to decorate your space on campus. It doesn't matter whether you load it up with holiday glitz, or transform it by displaying just one symbol. He'll try to get you on the schedule and send a member of our new student video bureau, or arrive himself, especially if you have treats.
Working the Plan: Meet Nadia Novotorova (business administration)
Strategic Imperative 6: Enhance and celebrate our ties to the area around the college
The first priority of Imperative 6 is "to promote the commercial vitality of our neighborhood, especially through business associations, partnerships and new initiatives to increase economic activity in the 'College Hill' district." Assistant Professor Nadia Novotorova directly supports this imperative through the advertising projects her students complete for the small businesses of College Hill.
Each team of four students becomes an agency, working to understand the business, research and define the clientele, analyze the current advertising, design new strategies and develop budgets. The students complete the project through a written report and class presentation—to which they also invite the business owners.
Denise Woolison, owner of Sunshine's Performing Arts Dance Studio & Resale Shop, was thankful for the fresh point-of-view and computer skills of the college students. "They had several really good ideas I had never thought of, including something that's free: Facebook. I'm on it, but I've never used it this way."
One of Sunshine's team members, Zach Buchel '13, returned to help Woolison take better advantage of Facebook. "I also really need to work on my website, and Zach said he'd help me with that, too,' she said.
Neighborhood Laundromat owner Todd Seemann appreciated the intensive research his team had done on the demographics of the area. "Their direct-mail marketing idea is a very effective way to reach neighbors, and they did all the research on postal requirements," he said.
Dr. Novotorova believes students learn best when they learn it hands-on. Her classes have worked with local organizations such as Bethany for Children & Families, John Deere Fitness Center and Living Lands and Waters, and she is always looking for new clients for her students.
"Another outcome is that now I am getting phone calls from businesses, saying, 'I really need a marketing intern. Can you suggest one?'" President of the Hilltop Association and Cool Beanz owner Annette Zapolis '09 wants one.
Dr. Novotorova also got a call from Gendler's Wine and Spirits, seeking assistance from her class during the projects. "It was too late to work with them at that point," she said, "but they want an intern to do some marketing research. We are meeting soon to discuss the details of what an Augie intern can do for them."
Field Notes
This month's Field Notes was sent from Todd Cleveland (history), teaching this year at the University of Ghana on a Fulbright Fellowship, and conducting historical research related to the country's diamond mines. His focus for this article is the state of education in Ghana.
Ghana is a remarkable country, the envy of many of its regional neighbors due to its peacefulness and relatively advanced stage of development. However, it's not without its share of challenges. One of the foremost is education.
It's not that Ghana doesn't have schools. Quite the contrary: everywhere you look, there's a school of some sort, including institutions of higher education. Rather, it's the quality of education that is a concern. Although certain large less-than-selective American universities often are accused of being "degree factories," the situation here is much more dire. If the hallmarks of an Augustana education are heightened reflective and critical thinking skills, students here essentially learn to memorize and regurgitate.
This pedagogy was inherited from the British, their former colonial overlord. Although the paucity of critical and creative thinking skills are on display in virtually every walk of life in Ghana, my position at the university and my son's enrollment in the University's Basic School—he's the only non-Ghanaian in a school of roughly 1,000 students (see photo at top)—have afforded me considerable insights, and attendant discouragement.
It does appear that this pedagogical approach is changing, albeit slowly. Professors here often remark how Ghanaian higher education is gravitating towards the American (pedagogical) model, and they appear to be genuinely encouraged. For example, in the history department's weekly seminar series, there's increasing stress on interpretation and analysis and less on simply crafting a narrative. This intellectual shift has upset some, but the wave of enthusiasm for this new approach appears to be muting their objections.
Education will undoubtedly be key to Africa's continuing development. My experiences here remind me how fortunate we are in the U.S. to have committed teachers, and institutions that value the development of creative, critical and innovative thinkers. Although our educational systems are not without flaws, there's a reason they enjoy such a good reputation around the world; and their products—i.e. the alumni—have fueled, and continue to fuel, our phenomenal growth. As Ghana strives to produce future generations of educated citizens who will propel its own development, hopefully these graduates will be inspired, inventive thinkers, rather than simply really good memorizers.
New Face on Campus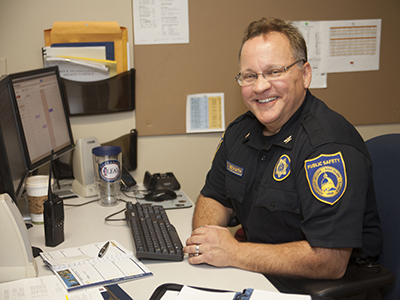 Mark Beckwith, Assistant Chief of Security
B.S., law enforcement, Western Illinois-Quad Cities
Retirement lasted all of two days for Mark Beckwith. The week after capping a 28-year career with the Milan Police Department—the past 10 years as chief—Mark assumed his duties as assistant chief of security on Monday.
What has made Mark so determined to delay a true retirement is the thrill of returning to his old stomping grounds. The Rock Island native went to grade school at Longfellow Elementary and later served as a school crossing guard at 38th Street and Seventh Avenue.
"It's interesting how the circle comes around," Mark said. "I was looking for a new adventure to start a second career. This opportunity came along, and I'm fortunate, blessed to be here."
Prior to becoming Milan's police chief, Mark worked second and third shifts, beginning as an officer. He grew to appreciate face-to-face contact with community members and anticipates enjoying that same level of interaction at Augustana.
"It takes a community to protect a community," Mark said. "I applied that in my previous career, and we'll use that same concept here. It will be a fun venture."
Mark has been married to his wife, Carrie, for 29 years. They have two daughters, Katie, 27, and Meg, 25. They also have a pair of granddaughters, McKenzie and McKenna.
From the Cabinet
Pareena Lawrence, Dean of the College
A generous grant by the Margaret Cargill Foundation has allowed Augustana College to establish the Upper Mississippi Studies Center (UMSC)—an interdisciplinary center that aligns with our mission as a liberal arts college, and capitalizes on our location overlooking one of our country's greatest natural resources. This interdisciplinary center with its focus on environmental and regional issues can provide important learning opportunities to our students, and help reinforce our identity within the Quad Cities, the regional community and higher education. Most importantly, the UMSC would directly impact the interdisciplinary and experiential educational opportunities for our students, faculty and the broader community.
Augustana has had significant involvement in Mississippi River studies throughout the community and region, through the Upper Mississippi Regional Studies master's program in the 1970s and 1980s; the substantial local and regional involvement of current faculty members and students from many departments in research, public service and internships; the specialized regional collections of books, maps and other primary documents in our library; and the Swenson Swedish Immigration Research Center. The new center will provide more structure and public visibility to this involvement, and develop new ways to build upon our traditional and current efforts.
The UMSC that we envision at Augustana will be a center for intellectual and cultural pursuits in any discipline as it relates to the Upper Mississippi River basin. In addition, the UMSC has the potential to become a central location for scholars, employers and organizations interested in education, outreach and conducting research or forming connections with this region.
Following a national search, Dr. Michael Reisner has been appointed as the director of the Upper Mississippi Studies Center. Dr. Reisner has his Ph.D. in ecology from Oregon State University and J.D. from the University of Oregon School of Law. He will start his position on January 14, 2013.
Seen & Heard
"They don't make high heels my size."—Matthew Kerr '13, one of three people casting for The Bacchae, wondering who might be willing to perform the drag queen scene.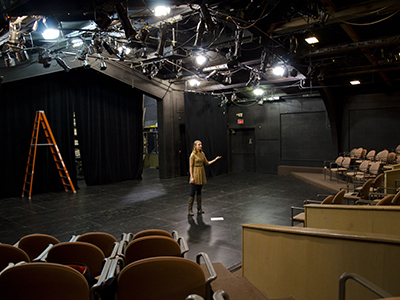 Actors, hip-hop dancers and DJs were invited to audition for the upcoming performances of The Bacchae, a contemporary retelling of the Greek tragedy, on Tuesday night.
Acknowledge is published by the Office of Communication and Marketing at Augustana College, Rock Island, Illinois. Contact Beth Roberts, editor. Photos in this issue were contributed by Dr.Todd Cleveland of the history department, Marla Alvarado-Neuerburg, Emily Cudworth '15, and Angelica Lindqvist '16 and Long Nguyen '16 of the Augustana Photo Bureau.