November 15, 2012
Jurgutis hits for 29 in season-opening win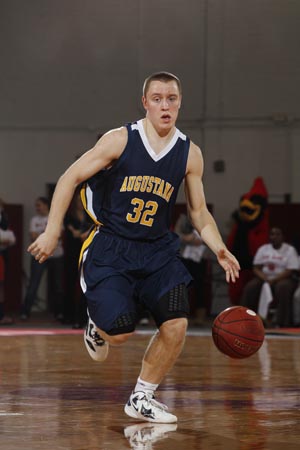 Sophomore Danielius Jurgutis scored a career high 29 points to help lead Augustana to an 85-82 season-opening victory over Aurora on Thursday, November 15.
AURORA, Ill. - Sophomore point guard Danielius Jurgutis (Downers Grove South HS, Downers Grove, Ill.) erupted for a career high 29 points and Augustana needed every one as the Vikings held off Aurora 85-82 in the season opener for both clubs. The game was played on Thursday, November 15 in Aurora, Illinois and for a while it appeared as if veteran head coach Grey Giovanine's team was going to have an easy time of it.

It turned out to be anything but easy as a seemingly-comfortable 21 point second half lead was whittled down to a single point in the closing seconds of the game. A total of 22 points - 12 by Aurora and 10 by the Vikings - were scored in the final 50 seconds of the game. Augustana connected on eight of 10 from the free throw line in the final minute and was able to survive a trio of three-point field goals by the Spartans in the final :31 of play.

The Vikings jumped out to an early 9-1 lead and led by 17 twice in the first half (29-12 at 8:38 and 33-16 at 6:04) before settling for a 12 point advantage at intermission (39-27). They didn't let up in the early going of the second stanza and eventually pushed the lead to 21 (55-34) with 15:34 remaining. The lead was still in double digits as late as 7:43 when Augustana was ahead by 10 points (64-54).

However, from the time Aurora trailed by 21 at 15:34 until the advantage was just two (66-64) at 3:56, the Spartans put on a 30-11 run. When Marious Lobdell connected on two free throws at 3:56, the lead was down to a single bucket. Jurgutis nailed a three point field goal, one of three for him on the night, at 3:32 to give the Vikings a little breathing room but the home team did not go away.

Freshman Ben Ryan (Washington HS, Washington, Ill.) hit two free throws at 2:09 to make it a seven point cushion (73-66) and at 1:35 he connected on two more to make it seven points again (75-68). On Aurora's next trip down the floor, however, Jurgutis picked up his fifth foul and when Marious Lobdell made both free throws it was a five point game (75-70).

With :50 to play Jurgutis' sub, freshman Hunter Hill (Byron HS, Byron, Ill.) sank two free throws and the Vikings led by seven (77-70). From there to the finish the Spartans got three point baskets from Jordan Hester and Lobdell (twice). The last three pointer from Lobdell came with :11 to play and trimmed the lead to just a single digit (82-81). Hill was fouled immediately and the youngster responded with two clutch free throws to make it 84-81. Lobdell was fouled with just four seconds left on the clock and he made the first and missed the second but his shot did not hit the rim and Augustana was awarded the ball out-of-bounds. Sophomore Brandon Thompson (Galesburg HS, Galesburg, Ill.) made one of two free throws with just two seconds left and Lobdell missed a desperation heave at the buzzer.

Jurgutis was extremely efficient as he connected on 11 of 14 from the floor, including three of five from three point range and four of five from the free throw line. He also grabbed four rebounds and had three assists. He was joined in double figures by Ryan with 13 and senior Brandon Kunz (Lake Zurich HS, Lake Zurich, Ill.) with 10. Kunz was a warrior on the boards, hauling in 14 boards.

The Vikings owned the backboards as they came away with a huge 48-30 advantage in that department. They were, however, hurt by 22 turnovers. Augustana shot .455 (25-55) from the field and went to the free throw line 40 times (making 28).

Lobdell led Aurora in scoring with 29 points, with 26 of those coming in the second half. The Vikings held Aurora to just .346 (9-26) shooting from the field in the first half but in the second half the Spartans hit at a .543 (19-35) clip and made six of 14 from three point range.

Augustana will be in action again on Tuesday, November 20 at St. Norbert.