November 15, 2012
Scots spoil Beinborn's debut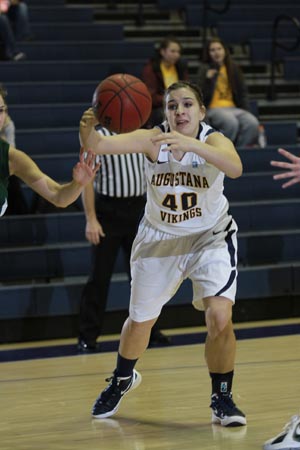 Junior Jessica Baids scored 13 points and grabbed seven rebounds in the Vikings' 75-66 loss at Monmouth on Thursday, November 15 in the head coaching debut of Mark Beinborn.
MONMOUTH, Ill. - A furious second-half comeback was not enough as Augustana dropped its season opener to Monmouth by a score of 75-66 on Thursday, November 15 in Monmouth, Illinois. The loss spoiled the head coaching debut of Vikings' head coach Mark Beinborn.
Augustana fell behind by as many at 18 points in the first half before roaring all the way back to take the lead late in the game only to see the Fighting Scots close the game on a 21-10 run over the last 5:43.
In the early going the score was tied 6-6 with the game less than three minutes old when the home team exploded and outscored the Vikings 26-8. That outburst left Monmouth with a 32-14 lead with 7:08 remaining in the first half. Beinborn's club clawed its way to within 10 points (37-27) at halftime.
The second half was a different story for Augustana. After falling behind by 12 on two separate occasions, with the last being 43-31 with 15:47 to play, the Vikings went on a 25-11 tear. They took the lead 56-54 with 5:43 to play on a three point field goal by senior Gianna Pecora (Downers Grove South HS, Darien, Ill.). Monmouth answered with a quick 8-0 run and with 3:53 left pushed the advantage to 62-56. Eventually the lead would grow to 12 (73-61) with :38 left before settling at the final nine point margin.
Freshman Maddie Kerr (Elgin St. Edward's HS, Streamwood, Ill.) led a trio of Augustana players in double figures with 14 points. She was five of 10 from the field, including four of eight from three point range. She was joined in double digits by freshman Marissa Pezzopane (Addison Trail HS, Wood Dale, Ill.) and junior Jessica Baids (West Chicago HS, Carol Stream, Ill.) - each with 13. Pezzopane was six of nine from the floor and pulled in seven rebounds with a pair of blocked shots while Baids hit four of 10 from the field and five of seven from the free throw line and chipped in with seven rebounds.
Sophomore Kayla Boers (Oswego East HS, Oswego, Ill.) led the Vikings in rebounding with 44 and she added six points as well. Augustana held a commanding 44-30 advantage on the boards but was hampered by 24 turnovers. Junior Molly Etheridge (Normal Community HS, Bloomington, Ill.) had eight assists and nine points.
Monmouth got 23 points from Corban Kaley and 15 out of Colleen Forrest. The Scots also shot .455 (25-55) from the floor, including .500 (8-16) from three point range. Augustana hit .397 (23-58) from the field and only .250 (6-24) from three point range.
The Vikings will open the home portion of their season on Saturday, November 17 against Robert Morris-Springfield at 5:00 p.m. in the Carver Center.