November 14, 2012
Split in dual meets against Knox and Dubuque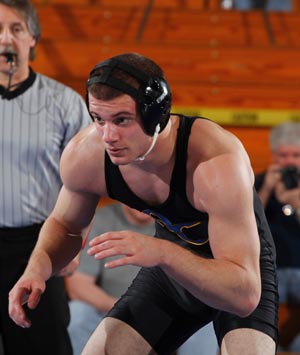 Sophomore David Tessiatore picked up two victories on Wednesday, November 14 as Augustana split dual meets with Knox (winning 48-3) and 21st ranked Dubuque (losing 19-13). Tessiatore is now 4-1 on the season.
GALESBURG, Ill. - On the opening night of the dual meet portion of the 2012-13 wrestling season, Eric Juergens' 17th ranked Vikings split a pair of dual meets on Wednesday, November 14 in Galesburg, Illinois. Augustana defeated Knox 48-3 and then fell to 21st ranked Dubuque 19-13.
The Vikings were coming off a weekend that saw them win four individual weight classes at the Knox Open on Saturday, November 10, also in Galesburg.
AUGUSTANA 48, KNOX 3
Victories in nine of the 10 weight classes propelled Augustana, ranked 17th in the NCAA Division III pre-season poll, to an easy 48-3 victory over host Knox on Wednesday, November 10. The match started at 141 pounds and the Vikings won the first four weight classes to jump off to an early 18-0 lead.
Freshman Isaiah Schaub (St. Francis HS, Traverse City, Mich.) got things started well for Augustana with a 10-3 victory over Mario Frye in the first bout of the match at 141. Sophomore David Tessiatore (Downers Grove North HS, Downers Grove, Ill.) followed with an 18-7 win over Eric Vogel at 149. Sophomore Kevin Sundberg (Paw Paw HS, Paw Paw, Mich.) recorded a technical fall (18-3 @ 5:40) over Reynoldo Cardenas at 157 and sophomore Torey Welch (Valor Christian HS, Littleton, Colo.) picked up a forfeit at 165.
Greg Ventris of Knox got the only victory for the Prairie Fire at 174 pounds when he made an escape hold up in a 1-0 win over sophomore Connor Cummings (Downers Grove North HS, Woodridge, Ill.).
Junior All-American Jordan Richardson (Grandville HS, Wyoming, Ill.) pinned Ryan Lambert at :38 of the 184 pound match. Sophomore Seth Whan (Sherrard HS, Milan, Ill.) and sophomore John Schraidt (Riverside-Brookfield HS, Riverside, Ill.) got forfeits at 197 and 285 respectively.
Freshman Jimmy Panozzo (Carl Sandburg HS, Orland Park, Ill.) pinned Austin Weaver at 1:41 of the 125 pound match. Freshman Cody Weitzel (Valor Christian HS, Englewood, Colo.) closed out the match by recording at fall at :21 of the 133 pound weight class against Matt Sugai.
DUBUQUE 19, AUGUSTANA 13
In a tight battle, 21st ranked Dubuque beat the 17th ranked Vikings 19-13.
Once again, the match started at 141 pounds and the Spartans' Brian Travis scored what would prove to be a key 9-8 victory over Augustana sophomore Hector Ruiz (East Aurora HS, Aurora, Ill.). Tessiatore evened things for the Vikings with a 6-2 win over Manny Mendoza at 149.
Dubuque won the next two weight classes to take a 9-3 lead when Ryan Warcynski beat Viking sophomore Alex Bowers (Noblesville HS, Noblesville, Ind.) 9-4 at 157 and Derek Mizaur defeated Welch (7-4) at 165.
Augustana's senior Matt Burns (Naperville Central HS, Naperville, Ill.) cut the lead to 9-6 with a 6-1 win against Joseph Kubica at 174. However, the Spartans won at 184 when Logan Einerson beat Richardson 2-0 and at 197 with Oliver Newton beating Whan 5-2. That made the score 15-6 heading into the final three weight classes.
Schraidt beat Dubuque's Nathan Cristion 12-5 at 285 and sophomore Jacob Scholten (Rockford HS, Grandville, Mich.) recorded a major decision (20-7) against Jared Smith at 125. The narrowed the lead to 15-13 but the Spartans' Christopher Sokol beat Weitzel 9-0 at 133 to make the final score 19-13.
Wednesday, November 14, 2012
Galesburg, Illinois
AUGUSTANA 48, KNOX 3
141 - Isaiah Schaub (A) beat Mario Frye (K) 10-3
149 - David Tessiatore (A) beat Eric Vogel (K) 18-7
157 - Kevin Sundberg (A) won by tech. fall over Reynaldo Cardenas (K) 18-3 @ 5:40
165 - Torey Welch (A) won by forfeit
174 - Greg Ventris (K) beat Connor Cummings (A) 1-0
184 - Jordan Richardson (A) pinned Ryan Lambert (K) @ :38
197 - Seth Whan (A) won by forfeit
285 - John Schraidt (A) won by forfeit
125 - Jimmy Panozzo (A) pinned Austin Weaver (K) @ 1:41
133 - Cody Weitzel (A) pinned Matt Sugai (K) @ :21
DUBUQUE 19, AUGUSTANA 13
141 - Brian Travis (D) beat Hector Ruiz (A) 9-8
149 - David Tessiatore (A) beat Manny Mendoza (D) 6-2
157 - Ryan Warcynski (D) beat Alex Bowers (A) 9-4
165 - Derek Mizaur (D) beat Torey Welch (A) 7-4
174 - Matt Burns (A) beat Joseph Kubica (D) 6-1
184 - Logan Einerson (D) beat Jordan Richardson (A) 2-0
197 - Oliver Newton (D) beat Seth Whan (A) 5-2
285 - John Schraidt (A) beat Nathan Cristion (D) 12-5
125 - Jacob Scholten (A) beat Jared Smith (D) 20-7
133 - Christopher Sokol (D) beat Cody Weitzel (A) 9-0
Augustana is now 1-1 in dual meets