November 13, 2012
Westerberg CCIW Defensive Player of the Year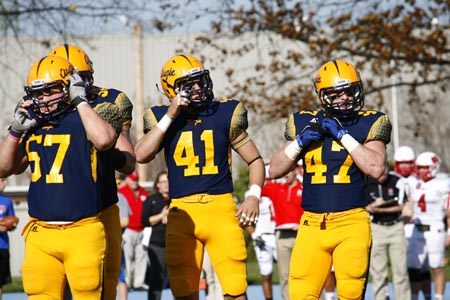 Defensive end Sean McIntyre (57) and linebackers Erik Westerberg (41) and John Draminski (47) have all been named to this year's All-CCIW team. Westerberg was a repeat first team selection and the league's Defensive Player of the Year, while McIntyre and Draminski were named to the second team.
NAPERVILLE, Ill. - Junior linebacker Erik Westerberg (York HS, Elmhurst, Ill.) has been named the Defensive Player of the Year in the College Conference of Illinois & Wisconsin. Westerberg was Augustana's only first team selection, but was one of seven Vikings to earn all-conference recognition on the team announced today.
Westerberg was the CCIW's leading tackler for the second year in a row and finished the season with a team-high 118 total tackles (66 solo and 52 assisted). He ranks 14th in the nation in both solo and total stops. His 14 tackles for loss also led the Vikings, while his four sacks were tied for second on the team. He was a repeat pick to the all-conference first team. He is Augustana's first CCIW Defensive Player of the Year since cornerback Tom Anthony won the award in 2005.
Six Vikings earned second team recognition. Seniors John Draminski (Wethersfield HS, Kewanee, Ill.) and Matt Glawe (Wheaton Warrenville South HS, Winfield, Ill.) joined sophomore Sean McIntyre (Genoa-Kingston HS, Genoa, Ill.) on the defensive side, while the second team offense included senior Mike Kautz (Alleman HS, East Moline, Ill.) and juniors Eric Chandler (Cary-Grove HS, Cary, Ill.) and Kyle Snow (Wheaton Warrenville South HS, Winfield, Ill.).
Draminski, a linebacker, was Augustana's second-leading tackler with 64 total stops and finished 10th in the CCIW with an average of 7.1 per game in league play. His 44 solo tackles were also second on the team to Westerberg and he recorded 5½ tackles for loss, two sacks, a pair of pass break-ups and two blocked kicks. He had one interception and one forced fumble as well. Glawe, a cornerback, finished with 28 tackles, 18 of which were solo stops. He also had two interceptions to tie for fifth in the conference and added a pair of pass break-ups. Defensive end McIntyre was the Vikings' best pass rusher, leading the team with nine sacks and ranking second in tackles for loss with 8½. He was third in the CCIW in sacks and tied for fourth with a pair of fumble recoveries. In addition, he batted down three passes, including two in a big win over Illinois Wesleyan.
Left tackle Kautz was the leader on the Augustana offensive line. He helped pave the way for a pair of running backs that averaged better than six yards a carry and provided protection for quarterback Nick Welch (Oswego HS, Oswego, Ill.) as he recorded the ninth-highest single season passing total in school history. Chandler led the Vikings in rushing with 718 yards and five touchdowns on 115 carries, an average of 6.2 yards per attempt. He averaged 89.7 yards per game in CCIW play to rank third in the league. His 203 rushing yards at North Park tied the 10th-best total in school history. He also caught eight passes for 166 yards, including touchdowns of 58 yards at Central and 78 yards at Illinois Wesleyan. Snow, a slot receiver, led Augustana with 27 receptions for 302 yards and two touchdowns. He also rushed 17 times for 97 yards and returned 13 punts for 107 yards.
Augustana finished the year 5-5 overall and in fourth place in the CCIW at 4-3.