November 13, 2012
McGinnis, Horack, Pape and Gottardo named lacrosse captains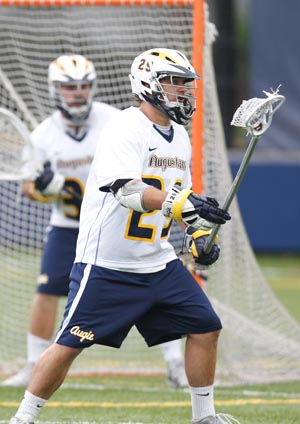 Junior Zach McGinnis has been named one of four captains for the 2013 Augustana men's lacrosse team. McGinnis, who was also a captain a year ago, started every game for the Vikings on defense in 2012 and led the team with 21 caused turnovers and was third with 31 ground balls.
Juniors Zach McGinnis (New Trier HS, Kenilworth, Ill.) and Keegan Horack (Illinois Valley HS, Chillicothe, Ill.) and sophomores Jon Pape (Hoffman Estates HS, Hoffman Estates, Ill.) and Jeremy Gottardo (Jacobs HS, Algonquin, Ill.) have been announced by head coach Kyle Hart as team captains for the second season of men's lacrosse at Augustana. The Vikings are coming off an inaugural campaign in which they went 8-6 as an independent. They join the Midwest Lacrosse Conference for the 2013 season.
McGinnis, a co-captain with senior Marcus Maier last year, started every game on defense for the Vikings in 2012. He led the team with 21 caused turnovers and tied for third with 31 ground balls. He also had one assist. Horack, a midfielder, appeared in 11 games and recorded 17 ground balls and eight caused turnovers.
Pape played five games in goal and started two, posting a 2-0 record with a sparkling 0.71 goals against average and an equally impressive .846 save percentage. He recorded a solo shutout in a 15-0 win over Milwaukee School of Engineering and combined with starter Cody Burgdorff (Peak to Peak HS, Lafayette, Colo.) on a whitewash of Alma. Pape also had four ground balls and one caused turnover. Gottardo, a defender, was the Augustana's Most Improved Player a year ago. He played in 13 contests, scoring one goal with 24 ground balls and 11 caused turnovers.
The Vikings open the 2013 season against Berry College in Mt. Berry, Georgia on February 23. The team's home opener at Thorson-Lucken Field is at 5:00 p.m. on March 8 against Hendrix. Augustana's first of 10 conference games takes place on March 24 at Defiance College in Defiance, Ohio.