October 31, 2012
Vikings win four weight classes at Knox Invitational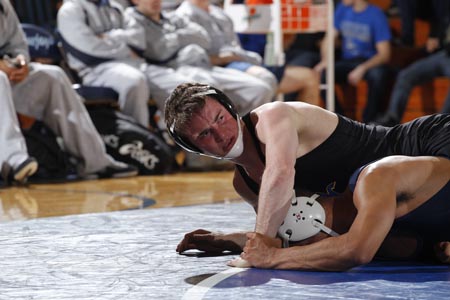 Sophomore 157-pounder Alex Bowers was one of four Viking champions at the Knox Invitational Saturday in Galesburg, Illinois.
GALESBURG, Ill. - Led by sophomore heavyweight John Schraidt (Riverside Brookfield HS, Riverside, Ill.), Augustana won four weight classes Saturday at the Knox Invitational wrestling tournament. Also winning their respective classes were junior 125-pounder Jacob Scholten (Rockford HS, Grandville, Mich.), senior Matt Burns (Naperville Central HS, Naperville, Ill.) at 174 pounds and sophomore Alexander Bowers (Noblesville HS, Noblesville, Ind.) at 157.
Three of coach Eric Juergens' champions defeated teammates in the finals. Freshman Jimmy Panozzo (Sandburg HS, Orland Park, Ill.) took second to Scholten as the result of a forfeit. Augustana had three of the top four finishers at both 157 and 285. Sophomore Thomas Reyhons (Assumption HS, Davenport, Iowa) was second at 157, falling to Bowers 4-1 in the finals, while sophomore Kevin Sundberg (Paw Paw HS, Paw Paw, Mich.) battled back after a second-round loss to take fourth. Sophomore John Seaman (Munster HS, Munster, Ind.) took second at 285, losing 8-5 to Schraidt in the finals, while junior Abe Duran (East Aurora HS, Aurora, Ill.) lost to Seaman in the semifinals and took fourth place.
Augustana also got second-place finishes from junior Jordan Richardson (Grandville HS, Wyoming, Mich.) at 184 and sophomore Hector Ruiz (East Aurora HS, Aurora, Ill.) at 141.
Schraidt opened with a 12-4 win over Truman State's Nathan Helmig before pinning teammate Steve Monaco (Stagg HS, Hickory Hills, Ill.) in 2:21 and defeating Jacob Crawford of Central 3-1 in the semifinals. Scholten's path started with a first round bye. He pinned Central's Abe Fernandez in 3:55 before getting a 13-4 major decision over Anthony Hawkins of Calumet in the semifinals. After a first-round bye, Bowers defeated Wheaton's Isaac Bray 10-4 and Central's Keegan Overbay 9-5 to reach the semis, where he scored a 3-2 sudden victory over James Townsend of Hannibal-LaGrange. Burns opened with an 11-5 defeat of Central's Grant Beck. He beat Greg Ventris of Knox 12-3 to reach the semifinals where he won a 6-5 decision over Truman's Chase Wrisinger. He took the title with a 5-2 win over Matt McCrary of Wheaton.
Other place-winners for the 17th-ranked Vikings included Cody Weitzel (Valor Christian HS, Englewood, Colo.), Walter Piech (Lincoln-Way East HS, Mokena, Ill.), Torey Welch (Valor Christian HS, Englewood, Colo.) and Seth Whan (Sherrad HS, Viola, Ill.), who each garnered fourth-place finishes. Weitzel, a freshman, took fourth at 133 while sophomores Piech, Welch and Whan were fourth at 149, 165 and 197, respectively. Freshman Frank Hollo (Litchfield HS, Litchfield, Ill.) was fifth at 197 and freshman Isaiah Schaub (St. Francis HS, Traverse City, Mich.) and sophomore David Tessiatore (Downers Grove North HS, Downers Grove, Ill.) took sixth place at 141 and 149, respectively.
Juergens' charges will be right back in Galesburg, Illinois on Wednesday, November 14, taking on Knox and Dubuque beginning at 6:00 p.m.