November 10, 2012
Viking men ninth at Midwest Regional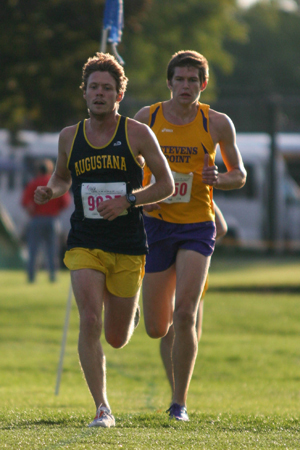 Augustana senior Jonathan Smith finished 15th at Saturday's NCAA Division III Midwest Regional hosted by Wisconsin-Oshkosh at Lake Breeze Golf Course in Winneconne, Wisconsin. Smith's effort helped the Vikings to a ninth-place team finish.
WINNECONNE, Wis.-Behind a 15th-place finish from senior Jonathan Smith (Moline HS, Moline, Ill.), coach Paul Olsen's 21st-ranked Augustana cross country team took ninth place Saturday at the NCAA Midwest Regional hosted by Wisconsin-Oshkosh. The race featured 10 teams currently ranked in the top 32 in the nation by the U.S. Track & Field and Cross Country Coaches Association, including third-ranked North Central, which won with 58 points.
Tim Nelson of Wisconsin-Stout was the individual champion, covering the eight kilometers at Lake Breeze Golf Course in 24:24.67. Yonatan Mascote (24:26.30) and Dan Kerly (24:26.88) of North Central were second and third, respectively.
After Smith, who finished in 24:56.30, Augustana had freshman Keith Sands (United Township HS, Silvis, Ill.), who ran a 25:13.09 for 34th place. Freshman Dan Popek (Minooka HS, Minooka, Ill.) and seniors Nathan and Justin Smith (Fenton HS, Bensenville, Ill.) all finished within five seconds of each other. Popek's 25:59.61 was good for 66th place, while Nathan Smith's 26:03.67 earned him 69th place, one spot ahead of Justin, who finished in 26:04.15.
Rounding out the Viking contingent were sophomore Nick Gornick (York HS, Elmhurst, Ill.) and junior Tyler Busch (Winnebago HS, Winnebago, Ill.). Gornick was 79th in 26:14.39 and Busch ran a 26:49.72 for 110th.
Sixth-ranked Wisconsin-LaCrosse, with 114 points, finished a distant second to North Central. Washington University, ranked ninth in the nation, was third with 135 points, followed by 13th-ranked Wheaton (140) and seventh-ranked Wisconsin-Eau Claire (145). 26th-ranked University of Chicago (171) was sixth, 32nd-ranked Wisconsin-Stout (178) seventh and 15th-ranked Wisconsin-Platteville (225) eighth. 18th-ranked Wisconsin-Stevens Point, with 252 points, finished one point behind Augustana in 10th place.