November 10, 2012
Augustana women take ninth in Midwest Regional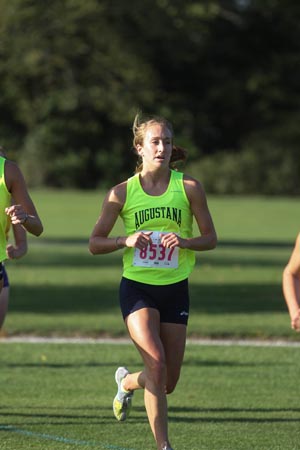 Senior Kirstillyn Pohlman wrapped up her cross country career at Augustana by placing 56th in the NCAA Division III Midwest Regional.
WINNECONNE, Wis. - The Augustana women's cross country team placed ninth out of 40 teams in the NCAA Division III Midwest Regional on Saturday, November 10 in Winneconne, Wisconsin. Veteran head coach Fred Whiteside's Vikings scored 347 points in the meet, which was won by Wisconsin-Eau Claire with 67.
The University of Chicago was second with 99 while Illinois Wesleyan, the champion of the College Conference of Illinois & Wisconsin, took third with 142. Wisconsin-Oshkosh was fourth with 153 and Wisconsin-LaCrosse placed fifth with 162. Washington (206), Monmouth (279), Wisconsin-River Falls (317), Augustana (347) and St. Norbert (353) rounded out the top 10.
Prior to the meet the Vikings had been ranked ninth in the latest Midwest Regional Rankings as conducted by the United States Track & Field/Cross Country Coaches Association.
Senior Sarahbeth Jones (Warren Township HS, Wadsworth, Ill.) was the top finisher for Augustana as she placed 34th with a time of 22:47 over the 6,000 meter layout. Christy Cazzola of Wisconsin-Oshkosh won the individual title with a time of 20:52.
Senior Kirstillyn Pohlman (Zion-Benton HS, Winthrop Harbor, Ill.) was the second Viking across the finish line with a time of 23:09 in 56th place. Junior Kate Benge (Pleasant Valley HS, Bettendorf, Iowa) finished 61st in 23:20 and sophomore Jessica Bacon (Rock Island HS, Rock Island, Ill.) was 66th in 23:20. Junior Kristyn Barton (York HS, Elmhurst, Ill.) took 130th in 24:36. Sophomore Lizzie Lundine (Willowbrook HS, Villa Park, Ill.) was 149th in 24:55 and senior Tara Bistry (Joliet Catholic HS, Shorewood, Ill.) finished 151st in 24:57.