November 10, 2012
Vikings fall in NCAA tournament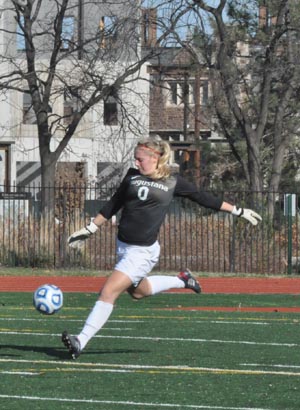 Conference Player of the Year Taylor Moesle was one of six Vikings named to this year's All-CCIW team, five of which were first team selections. Scott Mejia was also named the league's Coach of the Year.
ST. LOUIS, Mo. - A goal in the 66th minute of play was the lone score as Augustana fell to Thomas More 1-0 in the first round of the NCAA Division III national soccer tournament on Saturday, November 10 in St. Louis, Missouri. With the loss, the Vikings close out the season at 16-5 while Thomas More advances with a 20-1-1 record.
After a scoreless first half, Abby Gindling of Thomas gave the Saints the only goal they would need when she drilled a shot from 40 yards out past Augustana's freshman goalkeeper Meredith Chew (Paradise Valley HS, Phoenix, Ariz.). It was Gindling's ninth goal of the season.
Chew did come up with six saves in the defeat as the Vikings were outshot 15-8 although Augustana had the advantage in corner kicks by a margin of 5-1. All of the corner kicks came in the second half.
Senior Taylor Moesle (Carl Sandburg HS, Orland Park, Ill.), junior Stephanie Barr (Plainfield North HS, Plainfield, Ill.) and freshman Somer Druszkowski (Lincoln-Way Central HS, Manhattan, Ill.) all had two shots for the Vikings.
Augustana was making its fifth NCAA Division III national tournament appearance with the others coming in 2005, 06, 09, and 10. The Vikings won their second College Conference of Illinois & Wisconsin title in the last four years with a perfect 7-0 record.