November 10, 2012
Vikings fall to North Central 37-6 in season finale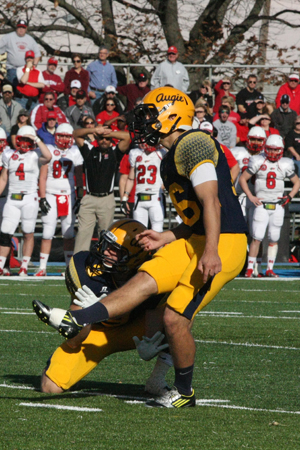 Sophomore placekicker Brady Rogers had a pair of field goals Saturday to account for all the Vikings' scoring in a 37-6 loss to North Central at Ericson Field.
ROCK ISLAND, Ill.-North Central rode a stout effort from its defense and a spectacular performance by punt returner Josh Mitchell to a 37-6 win over Augustana in the Vikings' season finale Saturday at Ericson Field. Augustana ends the season 5-5 overall and 4-3 in the CCIW, good for fourth place. The Cardinals close regular season play with an 8-2 record and a share of their seventh straight CCIW title at 6-1.

Mitchell gave the visitors a 7-0 first-quarter lead when he brought back an Arnie Fitzwater (Union HS, Waterford, Wis.) punt 80 yards for a score on North Central's second possession of the game. While it was the only time Mitchell would reach the end zone, he returned five more punts for an additional 144 yards and consistently set up the Cardinal offense with short fields all day.

A pair of first-quarter Brady Rogers (Cherokee Trail HS, Parker, Colo.) field goals cut the deficit to 7-6. The first, from 25 yards, capped a seven-play, 62-yard drive which featured a 42-yard end-around pass from freshman Chris Salazar (Providence Catholic HS, Plainfield, Ill.) to sophomore Torre Harrell (Bloomington HS, Bloomington, Ill.). Rogers' second field goal came from 41-yards and was set up by a Bo Goshorn (Romeoville HS, Romeoville, Ill.) interception of a Spencer Stanek pass in North Central territory.

Early in the second quarter, Stanek and the Cardinals put together a 12-play, 73-yard touchdown drive to go up 14-6. Running back Nick Kukuc carried five times for 33 yards on the march and Stanek completed two third-and-long passes to Chad O'Kane. The second went for 13 yards and a touchdown.

North Central took a 20-6 lead into the locker room with both of Nick Dace's second-quarter field goals set up by Mitchell punt returns. With 3:35 left in the half Mitchell returned one 35 yards to the Augustana 33-yard line. Five plays later, Dace knocked through a field goal from 31 yards for a 17-6 Cardinal lead. Then, with 17 seconds left, North Central forced the Vikings to kick it away again. This time Mitchell returned it 29 yards to the Augustana 43 and a personal foul on the Vikings took it down to the 28, eventually setting up a 37-yard Dace field goal as the half expired.

A 48-yard Mitchell punt return gave the Cardinals the ball on the Viking 25 on the visitors' first possession of the second half, but they came away scoreless when senior Luke Anderson (Lemont HS, Lemont, Ill.) got a hand on Dace's field goal attempt from 38 yards. Sophomore Tim Maroder (Burlington Central HS, Elgin, Ill.) recovered to end that threat.

Dace did add a 24-yard field goal in the third quarter and Kukuc and Jeff Stolzenberg scored fourth-quarter touchdowns to account for the final. Kukuc's five-yard touchdown run was set up by a 25-yard Mitchell punt return and Stolzenberg's 13-yard touchdown reception from Stanek was set up when Peter Mann intercepted a Nick Welch (Oswego HS, Oswego, Ill.) screen pass and returned it deep into Viking territory.

The Viking defense played well, holding a high-powered Cardinal offense to just 241 total yards, more than 200 under their season average. North Central came into the contest averaging 220.4 yards a game and 5.5 yards per carry on the ground. Augustana held them to just 102 yards on 42 attempts, an average of 2.5 yards per rush. Senior linebacker John Draminski (Wethersfield HS, Kewanee, Ill.) led the Vikings with eight tackles in his final game.

North Central's defense stifled Augustana all day. The Vikings managed just 42 net rushing yards on 32 attempts. The Cardinals held the CCIW's third-leading rusher, Eric Chandler (Cary-Grove HS, Cary, Ill.), to just 31 yards on 13 carries. Welch completed nine of 17 passes for 49 yards as Augustana finished with 161 yards of total offense on the day.