November 9, 2012
Sawyer, Vikings ranked regionally by ITA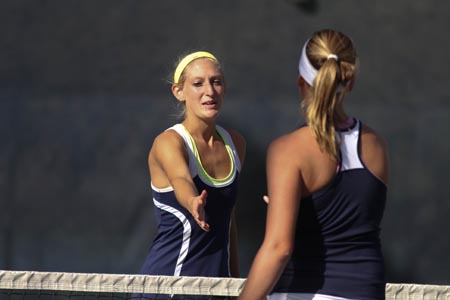 Junior Kim Sawyer finished the fall season with a 15-2 record and was named the College Conference of Illinois & Wisconsin "Player of the Year".
After a tremendous fall season that culminated with an 8-3 dual meet record and a second place finish in the College Conference of Illinois & Wisconsin, the Augustana women's tennis team cracked the top 20 ranking in the NCAA Division III Central Region. The Vikings are 20th in the final fall poll, which was conducted by the Intercollegiate Tennis Association (ITA). In addition, junior Kim Sawyer (Batavia HS, Batavia, Ill.) was ranked fifth among individual players.

The Vikings finished the fall season with an 8-3 record in dual meets, including 5-1 against College Conference of Illinois & Wisconsin competition. Augustana won 41 of 54 individual matches in league dual meet play. The team's second-place finish at the CCIW Championship matched that of the 2010-11 squad as the best since the 1997-98 team claimed Augustana's last conference title. Wheaton won its eighth consecutive CCIW team title with 75 points to the Vikings' 49.
A 7-2 loss at Grinnell and a seventh-place finish at the UW-Whitewater Warhawk Invitational opened the season, but the Vikings got on track with a 9-0 whitewash of Loras. A 7-2 win over North Central opened CCIW play and was followed by back-to-back 9-0 wins over Millikin and Illinois Wesleyan. Panko's three-set win at number three singles clinched a 5-4 win over Carthage on September 12. Augustana defeated Elmhurst 9-0 on September 15, but fell 9-0 to Division II Upper Iowa later in the day. After a 7-2 win at Cornell, the Vikings wrapped up fall dual meet play on September 23. They lost 7-2 to Wheaton, but rebounded with a 9-0 win over St. Ambrose. Competition at the Intercollegiate Tennis Association Central Region meet in St. Louis, Missouri preceded the CCIW Championship tournament.
Sawyer won the CCIW title at number one singles and was the first Viking to do that since Sarah Ainsworth's 1997. Sawyer also became the first Viking to earn the league's Player of the Year award since its inception in 2003. She finished the fall season with a 15-2 singles record and now sports a career record of 71-16 in singles play. That win total ranks fourth all-time at Augustana and her career singles winning percentage of .816 is currently best in school history. She teamed with freshman Aileen MacDonald (Mundelein HS, Mundelein, Ill.) for a third-place CCIW finish at number one doubles. The pair went 10-5 this fall. With a career doubles record of 47-31, Sawyer now ranks in a tie for 12th on Augustana's all-time total wins list with 118.
The Vikings resume play in the spring of 2013 with dual meets against St. Ambrose, St. Norbert and Upper Iowa.