November 7, 2012
Vikings looking forward to challenges with youth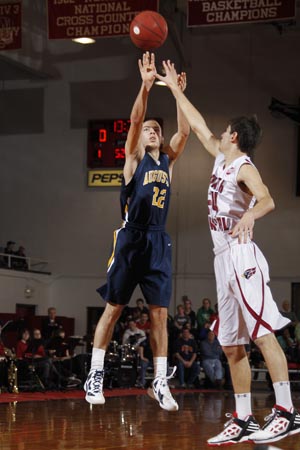 Sophomore Mark Roth started seven games last year and averaged 5.6 points per game and was the team's top three-point shooter at .439 (36-82).
At first glance, the losses suffered by the Augustana men's basketball team heading into the 2012-13 season appear to be a bit much. Three players who were three-year starters graduated off a team that finished 2011-12 with a 19-7 overall record and made the College Conference of Illinois & Wisconsin tournament for a league-record seventh straight year. Add to that a fourth starter who decided not to play his senior year and veteran head coach Grey Giovanine looks like he will have his work cut out for him. That is just the kind of challenge that the highly successful Viking mentor is looking forward to.
"I can't wait to see what this team can accomplish," said Giovanine, who has fashioned a record of 245-100 (.710) in 13 years at Augustana. "We have a 16-man roster and eight of those players are freshmen. "Clearly we will have a different dynamic than in the past few years but I couldn't be more excited about the possibilities."
Obviously, the loss of Bryant Voiles, Troy Rorer and Brian DeSimone to graduation stripped the Vikings of their top three scorers (Voiles - 14.2, Rorer - 11.2 and DeSimone 7.2), top rebounder (Voiles (7.2), top three in assists (DeSimone - 89, Rorer - 66 and Voiles - 45) and top two in steals (DeSimone - 34 and Rorer - 25) from a year ago. In the fall, the decision by Kameron Norton to forego his senior season took away a player who averaged 5.7 points and 5.0 rebounds per game.
"We lost some valuable contributors, no question about that," said Giovanine, who has led the Vikings to five CCIW titles since 2003. "But, we have a good mix of experience and youthful enthusiasm and our young guys are certainly talented."
One thing that won't change is the Vikings' style of hard-nosed defense and aggressive rebounding. Those two facets have been staples ever since Giovanine took over prior to the 1999-00 season. Last year Augustana held opponents to just .397 shooting from the field and held a monster edge (40.6 to 29.4) in rebounding.
"We are still going to do what we have always done," stressed Giovanine. "We are going to guard people tough and we are going to attack the boards. That has been a successful combination for us and we won't change."
The Vikings' front line is loaded with experience with seniors Brandon Kunz (Lake Zurich HS, Lake Zurich, Ill.) and George Dexter (Bettendorf HS, Bettendorf, Iowa) leading the way. Kunz started six games last year and averaged 6.8 points and 6.0 rebounds while shooting .543 (63-116) from the floor. Dexter was a starter 15 times and he averaged 3.8 points and 4.4 rebounds per contest. Junior Kevin Schlitter (Maine South HS, Park Ridge, Ill.) started six games and scored 5.0 per game while pulling down 2.5 rebounds.
Waiting in the wings will be sophomore Alex Dziagwa (Riverside-Brookfield HS, Riverside, Ill.) and freshman Brandon Motzel (Carmel Catholic HS, Buffalo Grove, Ill.).
While the front line has experience, the wing positions do not. Sophomore Brandon Thompson (Galesburg HS, Galesburg, Ill.) and freshmen Tayvian Johnson (United Township HS, East Moline, Ill.), Ben Ryan (Washington HS, Washington, Ill.) and Griffin Pils (Libertyville HS, Libertyville, Ill.) will all be battling for playing time.
Sophomores Mark Roth (Washington HS, Metamora, Ill.) and Danielius Jurgutis (Downers Grove South HS, Darien, Ill.) will lend stability to the backcourt. Roth started seven games last year and averaged 5.6 points per game and was the team's top three point shooter at .439 (36-82). Jurgutis averaged 13 minutes per game as the backup point guard and he scored 4.5 points per game and had 38 assists. Junior Austin Lusson (Lyons Township HS, LaGrange, Ill.) and Thompson will be in the mix at the guard spot. Another possibility at point guard is freshman Hunter Hill (Byron HS, Byron, Ill.).
Sophomore Nic Hoepner (United Township HS, East Moline, Ill.) and freshman Jake Gylten (Iowa City West HS, Iowa City, Iowa) will lend depth in the frontcourt and freshman Jake Norcia (Highland Park HS, Highland Park, Ill.) is a guard candidate.
The Vikings start the season with three consecutive road games and Giovanine is looking forward to see how his team reacts. "We are going to have some bumps along the way," he said. "The key will be how we react and grow and develop as the season progresses."