November 6, 2012
Moesle leads six Vikings named All-CCIW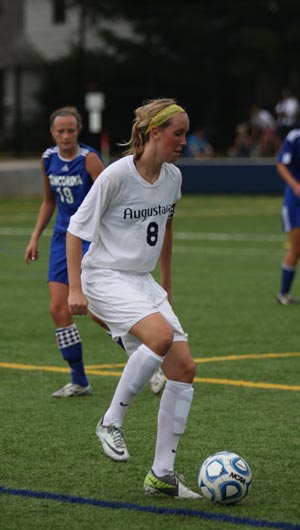 Conference Player of the Year Taylor Moesle was one of six Vikings named to this year's All-CCIW team, five of which were first team selections. Scott Mejia was also named the league's Coach of the Year.
Five Augustana Vikings, including conference Player of the Year Taylor Moesle (Sandburg HS, Orland Park, Ill.) and Co-Newcomer of the Year Kelly Farell (St. Ursula Academy, Sylvania, Ohio) have earned first team honors on the all-conference team announced by the CCIW. Joining them were Morgan Olsen (Downers Grove North HS, Woodridge, Ill.), Maggie Hoscheit (St. Charles East HS, St. Charles, Ill.) andMeredith Chew (Paradise Valley HS, Phoenix, Ariz.). In addition, Augustana's Scott Mejia was named the league's Coach of the Year.
Moesle, a senior, becomes the first CCIW Player of the Year from a program other than Wheaton. A Thunder player had won the award in each of the league's first 17 years of women's competition. Moesle helped lead Augustana to a CCIW regular season title with a perfect 7-0 mark. The Vikings are currently 16-4 overall heading into NCAA tournament action this weekend.
Moesle and Farell, a freshman, are Augustana's top two scorers this year. Moesle, a first team selection for the third straight year, has a dozen goals in addition to a school-record 12 assists for 36 points. Farell leads with 37 points on a team-high 13 goals (10th-best in school history) and 11 assists (second only to Moesle in program history). They each had seven assists in conference play to tie for the league lead and Farell tied for the CCIW lead in points as well, with 15. She shared Newcomer of the Year honors with Leah DeMoss of Wheaton, a junior transfer from the University of Iowa.
Olsen, a senior; Hoscheit, a junior; and freshman Chew were keys to a Viking defense that allowed just five goals in seven league contests. Olsen, who took the majority of Augustana's free and corner kicks, was the team's fifth-leading scorer with three goals and an assist. Hoscheit adds first team all-conference recognition to the academic all-district honors she won last week. Chew has started every game in goal this season and was 7-0-0 in league play with an .861 save percentage and 0.71 goals against average. All of those numbers were tops among the conference's regular keepers. Augustana has now had the first team all-conference goalkeeper in eight of the last nine seasons.
Another Viking freshman, Somer Druszkowski (Lincoln-Way Central HS, Manhattan, Ill.) earned second team All-CCIW honors. She was Augustana's third-leading scorer with five goals and one assist. She tied for seventh in the conference with three goals in seven league matches.
The Coach of the Year award was Mejia's third as Augustana's women's coach. He also won it in 2006 and 2009 after winning it on the men's side in 2002.
2012 ALL-CCIW WOMEN'S SOCCER

FIRST TEAM

School

Pos.

Yr.

Hometown/High School

MEREDITH CHEW

AUGUSTANA

GK

FR.

PHOENIX, ARIZ./PARADISE VALLEY

Laura Karsten

Wheaton

D

Sr.

Grand Haven, Mich./Western Michigan Christian

Jill Olliges

Illinois Wesleyan

D

Sr.

Naperville, Ill./Benet Academy

MAGGIE HOSCHEIT

AUGUSTANA

D

JR.

ST. CHARLES, ILL./EAST

Keri Shannon

Wheaton

MF

Sr.

Melville, N.Y./St. Anthony's

MORGAN OLSEN

AUGUSTANA

MF

SR.

WOODRIDGE, ILL./DOWNERS GROVE NORTH

Hannah Ketterling

Illinois Wesleyan

MF

Jr.

St. Charles, Ill./East

TAYLOR MOESLE

AUGUSTANA

F

SR.

ORLAND PARK, ILL./CARL SANDBURG

KELLY FARELL

AUGUSTANA

F

FR.

SYLVANIA, OHIO/ST. URSULA ACADEMY

Emily Hinchman

Illinois Wesleyan

F

Sr.

Geneva, Ill./H.S.

Hope Stayer

North Central

F

Jr.

Freeport, Ill./H.S.

Leah DeMoss

Wheaton

F

Jr.

Elburn, Ill./St. Charles North

SECOND TEAM

School

Pos.

Yr.

Hometown/H.S.

Maddie Fitzpatrick

Elmhurst

GK

So.

Downers Grove, Ill./North

Alyssa Baker

Carthage

D

Jr.

Lake Villa, Ill./Lakes Community

Amanda Brait

Wheaton

D

Jr.

Park Ridge, Ill./Maine South

Julie Govedarica

Illinois Wesleyan

D

So.

Chicago, Ill./St. Ignatius Prep

Biba Beckwith

Elmhurst

MF

Sr.

Dunlap, Ill./H.S.

SOMER DRUSZKOWSKI

AUGUSTANA

MF

FR.

MANHATTAN, ILL./LINCOLN WAY CENTRAL

Katie Baschen

Elmhurst

MF

Sr.

Downers Grove, Ill./South

Alexa Sharkey

Wheaton

MF

So.

Winfield, Ill./Wheaton Academy

Rachel Jason

Carthage

F

Sr.

Deerfield, Ill./H.S.

Tillie Bill

Illinois Wesleyan

F

Jr.

Hartsburg, Mo./Southern Boone County

Amy Baschen

Elmhurst

F

Sr.

Downers Grove, Ill./South

Katrina Dekirmendjian

North Park

F

So.

Toronto, Ontario/St. Theresa of Lisieux
CCIW Coach of the YearL SCOTT MEJIA – AUGUSTANA ; CCIW Player of the Year: TAYLOR MOESLE – AUGUSTANA; CCIW Co-Newcomers of the Year: KELLY FARELL – AUGUSTANA; Leah DeMoss – Wheaton