November 5, 2012
Matt Shipon named second team All-CCIW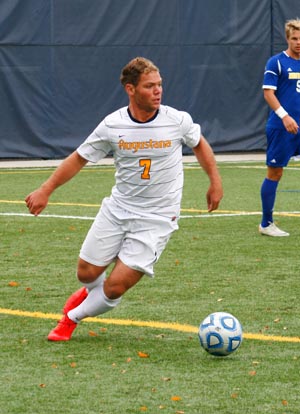 Augustana junior midfielder Matt Shipon has been named to the 2012 All-CCIW second team.
The College Conference of Illinois & Wisconsin has announced its 2012 men's soccer all-conference selections and Augustana junior midfielder Matt Shipon (South Elgin HS, Elgin, Ill.) has been named to the second team. He tied for the Viking team lead this year with a pair of assists and scored one goal as well.
Shipon led Augustana in shots with 41 and shots on goal with 13. His goal came against Concordia-Moorhead and was a game-winner. The Vikings finished the year 6-9-3 overall and 2-4-1 in conference play. Regular season and tournament champion Wheaton swept the individual awards. Player of the Year Adam Blackman and Newcomer of the Year Marshall Hollingsworth were two of five Thunder players named to the All-CCIW first team, while Michael Giuliano was the league's Coach of the Year.
2012 ALL-CCIW MEN'S SOCCER

FIRST TEAM

School

Pos.

Yr.

Hometown/High School

Tim Ahlberg

North Park

GK

Sr.

Perrysburg, Ohio/H.S.

Declan Geraghty

Illinois Wesleyan

D

Jr.

Schaumburg, Ill./H.S.

Noah Anthony

Wheaton

D

So.

St. Charles, Ill./North

William Veliz

Carthage

D

Sr.

Springfield, Ill./Glenwood

Fredrik Greiff

North Park

MF

So.

Halmstad, Sweden

Elliot Borge

Wheaton

MF

Fr.

Western Springs, Ill./Lyons Township

Josh Clark

Wheaton

MF

Jr.

Palatine, Ill./H.S.

Adam Blackman

Wheaton

F

So.

Urbana, Ill./H.S.

Jonas Pettersson

North Park

F

So.

Oskarshamn, Sweden

Marshall Hollingsworth

Wheaton

F

Fr.

Libertyville, Ill./H.S.

Michael Dombrowski

Carthage

F

So.

Johnsburg, Ill./H.S.

Filip Lindmark

North Park

F

Jr.

Skovde, Sweden

SECOND TEAM

School

Pos.

Yr.

Hometown/H.S.

Milan Tijanic

Carthage

GK

Sr.

Glenview, Ill./Maine East

Jakob Aronsson

North Park

D

Jr.

Floda, Sweden

Mike Tworek

North Central

D

Sr.

Wheaton, Ill./North

Danny Kenny

Illinois Wesleyan

D

Sr.

Wildwood, Mo./Lafayette

Stephen Fernandes

Wheaton

D

So.

West Chicago, Ill./Wheaton Academy

Greg Pignataro

Carthage

MF

Sr.

Algonquin, Ill./Jacobs

Kyle Gorgol

Illinois Wesleyan

MF

Sr.

Darien, Ill./Hinsdale South

Michael Lenzi

North Central

MF

Jr.

Wheaton, Ill./North

MATT SHIPON

AUGUSTANA

MF

JR.

ELGIN, ILL./SOUTH ELGIN

Jake Muszczynski

North Central

F

Jr.

Arlington Heights, Ill./Rolling Meadows

Jordan Innis

Carthage

F

Sr.

Lake in the Hills, Ill./Crystal Lake South

Mikey Emig

Elmhurst

F

Fr.

Kalamazoo, Mich./Parchment
Joe Bean Coach of the Year: Michael Giuliano – Wheaton; CCIW Player of the Year: Adam Blackman – Wheaton; CCIW Newcomer of the Year
Marshall Hollingsworth - Wheaton