November 5, 2012
Emily Leazer named to All-CCIW second team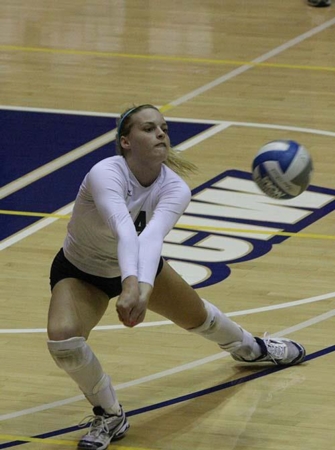 Sophomore outside hitter Emily Leazer is a 2012 second team All-CCIW selection.
Augustana sophomore Emily Leazer (St. Viator HS, Mt. Prospect, Ill.) was named to the all-conference volleyball team in the College Conference of Illinois & Wisconsin, it was announced today. Leazer, a hard-hitting outside hitter for head coach Jamie Walters' Vikings, was a second team selection.
She was Augustana's team leader on offense during the 2012 season. She played in all 110 sets in the 31 match campaign, one of just two Vikings to do that. She posted 397 kills for an average of 3.61 per game and she had 154 errors in 1111 total attempts for a hitting percentage of .219. She also had 317 digs (2.88 per set) and was second on the team in that category. She recorded 100 service aces for an average of 0.91 per set, which is a new school record. She shattered the old mark of 0.63 set by Mandy Murray in 2001.
Leazer had 93 kills in 25 sets during CCIW play and ranked second in the league in that statistic with 3.72 kills per game. She was third in service aces with 11 in 25 sets for an average of 0.44. She finished 10th in digs with 84 in 25 games for an average of 3.36.
Leazer finished the season ranked fifth in NCAA Division III in service aces at 0.91 and 13th in points per set with 4.79.
Her average of 3.61 kills per set is the fifth-best single season average in school history. She has 136 service aces in her career and is now seventh on the career list in that category with two full seasons remaining. Leazer has 692 kills during her career and should enter the career top 10 list sometime during her junior year.
During the recently concluded season, Leazer was named to all-tournament teams in the Augustana Invitational on August 31/September 1, the Alverno Tournament on September 14-15 and the Pumpkin Bash on October 26-27. She was the tournament MVP at both the Alverno Tournament and the Pumpkin Bash.
Augustana finished the year 20-11 overall and that is the best record for the Vikings since going 23-12 in 2008.