November 5, 2012
Vikings to open NCAA tourney against Thomas More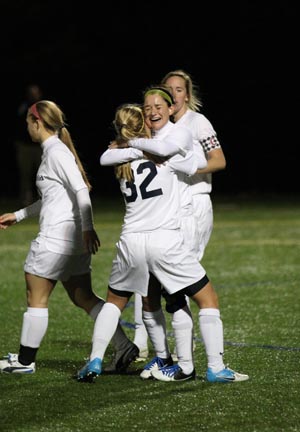 After winning the regular-season CCIW title and reaching the league tournament championship, the Augustana women's soccer team earned an at-large bid into the Division III NCAA tournament. The Vikings will play Thomas More (Ky.) on Saturday at 1:30 p.m. in St. Louis.
ROCK ISLAND, Ill. - Augustana will be making its fifth NCAA Tournament appearance in women's soccer this weekend with a first round match against Thomas More on Saturday, November 10 at 1:30 p.m. in St. Louis, Missouri. The Vikings, 16-4 overall and winners of the College Conference of Illinois & Wisconsin were selected as an at-large representative after falling to Wheaton 2-0 in the conference tournament's championship match on Saturday, November 3 at Thorson-Lucken Field.
Thomas More, out of Crestview Hills, Kentucky, is currently 19-1-1 and the Saints won the President's Athletic Conference title and took the league's automatic berth in the NCAA Tournament by advancing in a 3-2 shootout over Grove City on Saturday, November 3. The Saints will be making their third NCAA appearance and will be looking for their first victory after losing in the first round in 2003 and 2011.
Washington University of St. Louis will serve as the host for the regional and the Bears (16-1-1) will face Transylvania (11-5-3) at 11:00 a.m. prior to the Augustana vs. Thomas More clash. The winners will square off on Sunday, November 11 at 1:00 p.m.
Veteran head coach Scott Mejia's team is currently ranked 14th in the latest NCAA Division III poll conducted by the National Soccer Coaches Association of America and 24th in the D3Soccer.com ranking. Thomas More is unranked in the NSCAA poll but is 16th in D3Soccer.com.
The Saints' only loss this season was by a score of 1-0 to Ohio Northern back on September 22. They are a high scoring bunch with 77 goals in 21 games for an average of 3.66 per game while giving up just seven goals themselves. Olivia Huber is the top goal scorer for Thomas More with 14 while Lauren Wietmarschen has 12.
Augustana is led in scoring this year by freshman Kelly Farell (St. Ursula Academy, Sylvania, Ohio) with 13 goals and 11 assists for 37 total points. Senior Taylor Moesle (Carl Sandburg HS, Orland Park, Ill.) is next with 12 goals and a school record 12 assists for 36 points. The Vikings have gotten solid goalkeeping out of freshman Meredith Chew (Paradise Valley HS, Phoenix, Ariz.). She has given up 20 goals in 20 games (1,692 minutes) and has a goals-against-average of 1.06.
The Vikings made their first NCAA appearance in 2005 and tied Wisconsin-Eau Claire 0-0 but the Blugolds advanced 4-3 in a shootout. The next season (2006), Augustana beat Grinnell 2-1 in the first round before falling to UW-Eau Claire 4-0. Mejia's bunch advanced to the "Sweet Sixteen" in 2009 with wins over Albion (2-1) and Wisconsin-Stevens Point (1-0) before dropping a 2-1 decision to Calvin. In 2010 the Vikings bowed out in the first round with a 2-1 loss to Carleton.
Mejia is in his 12th season as the Vikings' head coach and he has compiled a record of 164-61-17 (.713) during that time frame.