November 3, 2012
Vikings get 4th straight win, 22-7 at IWU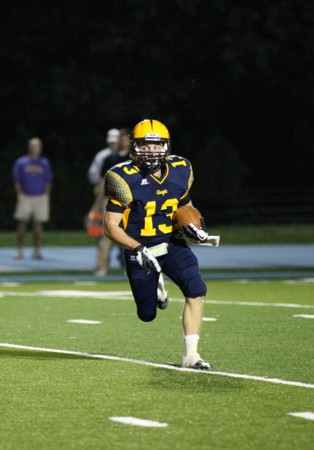 Junior slot receiver Kyle Snow caught eight passes for 109 yards Saturday, including a 58-yard touchdown, as Augustana defeated Illinois Wesleyan 22-7 in Bloomington, Illinois.
BLOOMINGTON, Ill.-For the second week in a row, Augustana jumped out to a sizeable halftime lead and went on to a victory, defeating Illinois Wesleyan 22-7 Saturday at Tucci Stadium. The win was the Vikings' fourth in a row and they improved to 5-4 on the year and 4-2 in the CCIW heading into next Saturday's season finale against North Central. IWU falls to 6-3 overall and 3-3 in the conference.
Augustana's second possession started on its own 23-yard line. On third-and five, senior quarterback Nick Welch (Oswego HS, Oswego, Ill.) connected with sophomore Antonio Owens (Naperville North HS, Chicago, Ill.) for a 34-yard gain to the Titan 38. Two plays later, on third-and-five, he hooked up with junior Kyle Snow (Wheaton Warrenville South HS, Wheaton, Ill.) for 14 yards to the IWU 18. The Vikings converted their third straight third-down opportunity two plays later and hit paydirt in the process. Freshman wide out Jawan Straughter (Plainfield East HS, Bolingbrook, Ill.) took an option pitch on a reverse and weaved through the Titan defense for a 12-yard touchdown run. Brady Rogers' (Cherokee Trail HS, Parker, Colo.) PAT made it 7-0.
The Vikings increased the lead to 10-0 early in the second quarter on a 26-yard Rogers field goal. Key plays on the seven-play, 49-yard drive included a roughing the passer call against Illinois Wesleyan and a 33-yard option keeper by Welch.
The Titans, who had not advanced past their own 39-yard line on their first four possessions, then got on the board, going 70 yards in six plays. Running back Devonte Jones carried four times for 39 yards on the march, which was capped by a 16-yard scoring pass from Tyler Hook to Tate Musselman. IWU also benefited from a Viking personal foul.
Augustana answered right back however with a five-play, 78-yard touchdown drive to go up 16-7 half way through the second quarter. Welch connected with Snow, who broke a tackle and outran the Titan secondary into the end zone for a 58-yard touchdown. Rogers' PAT attempt was blocked.
The hosts put together another good drive, covering 57 yards in 11 plays, but came away empty when Michael Kelley's 38-yard field goal attempt went wide left. That set up a back-breaking touchdown by the Vikings. Taking over at their own 21-yard line following Kelley's miss, they faced a third and nine from the 22 with just over two minutes left in the half. Junior running back Eric Chandler (Cary-Grove HS, Cary, Ill.) took a pass from Welch and went 78 yards for a touchdown to give the Vikings a 22-7 lead going to the locker room.
Neither team was able to put a score on the board in the second half. Augustana came away with zero points on a pair of red zone trips in the third quarter. One ended on a lost fumble, the team's only turnover of the game, and the other on a fourth-down incompletion.
The Titans had a red zone opportunity end with a turnover as well when Matt Glawe (Wheaton Warrenville South HS, Winfield, Ill.) intercepted a Tyrell Bolden pass in the end zone early in the fourth quarter. The Vikings stopped IWU on downs later in the quarter and then exhausted the final seven minutes with a 13-play, 57-yard drive.
Welch finished the day 17 for 28 for 277 yards and two touchdowns. Snow hauled in eight of his throws for 109 yards and a touchdown. Chandler, in addition to his 78-yard touchdown reception, led the Vikings in rushing with 45 yards on 12 carries. As a team Augustana rushed for 164 yards on 38 carries and finished the day with 441 yards of total offense.
Senior linebacker Joe Spindler (Hononegah HS, Rockton, Ill.) led the Augustana defense with seven tackles, while sophomores Ben Fornek (Batavia HS, Batavia, Ill.) and Tim Maroder (Burlington Central HS, Elgin, Ill.) recorded six each. In addition to Glawe's interception, John Draminski (Wethersfield HS, Kewanee, Ill.) had one as well. Sophomore defensive lineman Sean McIntyre (Genoa-Kingston HS, Genoa, Ill.) had a sack and batted down a pair of passes at the line of scrimmage.
The Vikings close the season on Saturday, November 10, hosting North Central at Ericson Field at 1:00 p.m.