November 3, 2012
Vikings drop CCIW title game to Wheaton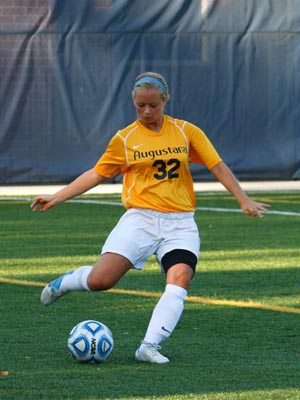 Kerri Skotnick was part of an Augustana defense that held Wheaton scoreless for nearly 80 minutes on Saturday night in the CCIW championship match before allowing two goals in the final 10 minutes.
ROCK ISLAND, Ill. - After holding Wheaton scoreless for nearly 80 minutes, the Thunder tallied two goals over a four-minute time span and defeated Augustana 2-0 in the championship match of the College Conference of Illinois & Wisconsin women's soccer tournament on Saturday, November 3. The match, which was played at Thorson-Lucken Field, featured a pair of team ranked in the top 25 nationally.
Augustana, which beat the Thunder 1-0 on Wednesday, October 24 in Wheaton to clinch the 2012 CCIW championship, was ranked 14th in the latest NCAA Division III poll while Wheaton came into the championship match rated 22nd.
On Saturday night the two teams were even on the scoreboard into the 80th minute when Wheaton's Leah DeMoss knocked in a header off a feed from Annie Wooldridge at 79:03. It was DeMoss' 18th goal of the year. The Thunder put the game on ice on this frigid evening with a goal by Ally Witt, her 15th of the season, thanks to an assist by Sydney Sharkey at 83:20.
Wheaton outshot Augustana 23-9 and had an advantage of 7-4 in corner kicks. Vikings' goalkeeper Meredith Chew (Paradise Valley HS, Phoenix, Ariz.) was credited with nine saves in the match. Kelly Farell (St. Ursula Academy, Sylvania, Ohio), Augustana's leading scorer on the season, did have six shots in the loss but only one was on goal.
Augustana is now 16-4 overall and will await word from the NCAA on whether an at-large berth in the national tournament is in the cards. Wheaton, 17-3-2, takes the CCIW's automatic bid with the victory.