November 2, 2012
Gornick, Vikings second at Luther JV Cup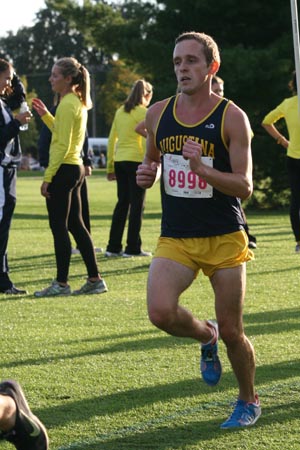 Sophomore Nick Gornick missed winning the Luther JV Cup by less than half of a second Friday. Both Gornick and the Vikings finished second in Decorah, Iowa.
DECORAH, Iowa-Augustana sophomore Nick Gornick (York HS, Elmhurst, Ill.) finished second individually and the Vikings were second as a team Friday at Luther College's JV Cup cross country meet. Gornick covered the eight kilometer course in 26:16.0, just fourth-tenths of a second behind Nick Peterson of Wisconsin-Eau Claire. Peterson's Blugolds won the team title as well.
Freshman Ethan Koch (Prospect HS, Mt. Prospect, Ill.) was Augustana's next-highest finisher, taking ninth place in 26:46.3. Juniors Isaac Trostle (Willowbrook HS, Lombard, Ill.), Andrew Allabastro (Lyons Township HS, Countryside, Ill.) and Alex Stockwell (Glenbard West, Glen Ellyn, Ill.) finished 14th, 17th and 23rd, respectively, with times of 26:53.4, 26:59.9 and 27:03.7.
Sophomore Grant Bell (Belgrade-Brooten-Elrosa, Belgrade, Minn.) and senior Tommy Harris (Assumption HS, Davenport, Iowa) rounded out the top seven for Augustana, whose 62 points were second to UW-Eau Claire's 19. Bell ran a 26th-place 27:14.9, while Harris was 30th in 27:24.1.
After the Blugolds and Vikings, Luther was third with 72 points, followed by UW-Platteville (105) and UW-Stout (123).