November 2, 2012
Augustana hosts CCIW tournament championship match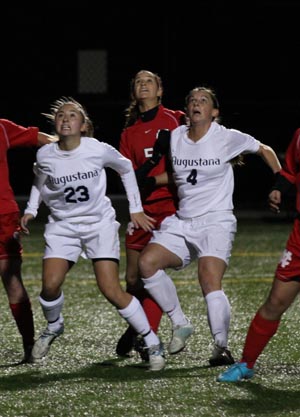 Jessica Kras (23) and Stephanie Barr (4) and the rest of the Vikings will tangle with 22nd rated Wheaton at 6:00 p.m. on Saturday, November 3 at Thorson-Lucken Field.
Augustana, which won the College Conference of Illinois & Wisconsin championship for the second time in the last four years, will try and add another title on Saturday, November 2. The Vikings will host Wheaton at 6:00 p.m. at Thorson-Lucken Field in the championship match of the CCIW tournament. The winner will win the conference's automatic berth into the NCAA Division III national tournament.
The loser of the match will be attempting to gain an at-large bid into the national field.
Head coach Scott Mejia's Vikings are currently 16-3 overall and ranked 14th in the latest NCAA Division III national poll while Wheaton is 16-3-2 and ranked 22nd nationally. The two teams are meeting in the championship match of the CCIW for the first time since 2006.
The top-seeded Vikings, winners of their second regular season title in program history this season, beat fourth-seeded North Central at home 3-1 Wednesday evening. On Tuesday, the second-seeded Thunder held off third-seeded Illinois Wesleyan 3-2 in overtime.

Both Augustana and Wheaton last played each other in the tournament championship in 2006 with the Thunder winning 1-0. Wheaton also beat Augustana in the 2003 tournament championship by the same 1-0 score.
Augustana won its only tournament title in 2009, the same season that the Vikings won their only regular season title.

In the win over North Central on Wednesday night, the Vikings got all three goals from non-starters. Sophomore Taylor Navarro (York HS, Elmhurst, Ill.) scored twice and junior Amanda Tucker (Crete-Monee HS, Crete, Ill.) tallied once.
Freshman Kelly Farell (St. Ursula Academy, Sylvania, Ohio) leads the team in scoring with 13 goals and 11 assists for 37 points. Senior Taylor Moesle (Carl Sandburg HS, Orland Park, Ill.) is second with 12 goals and a school record 12 assists for 36 points.
The defense is led by junior Maggie Hoscheit (St. Charles East HS, St. Charles, Ill.), who was recently named to the Capital One Academic All-District team. Freshman Meredith Chew (Paradise Valley HS, Phoenix, Ariz.) has started all 19 games in goal and has a 1.01 goals-against-average.