November 1, 2012
Beinborn looking forward to 2012-13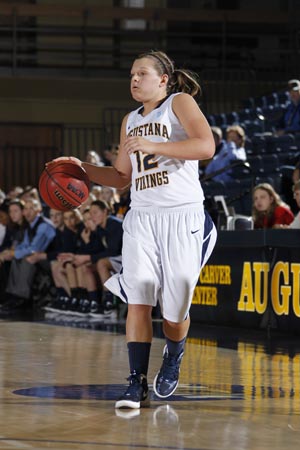 Junior Molly Etheridge is the top returning scorer for the Vikings after averaging 11.1 points per game a year ago.
Mark Beinborn spent four seasons as the assistant coach for the Augustana women's basketball team and he is anxiously looking forward to the 2012-13 campaign as his first as the head coach. He will welcome back six letter winners and three starters from a team that compiled a record of 11-14 a year ago.
"I am really excited to get started," said Beinborn, who joined the Viking staff prior to the 2008-09 season. "We have good veteran leadership along with some talented young players and it will be interesting to see how it all meshes as the season unfolds."
A year ago Augustana compiled its most wins since the 2003-04 season and the Vikings led the College Conference of Illinois & Wisconsin in both free throw percentage and offensive rebounds per game. Beinborn is looking at his three returning starters: senior Gianna Pecora (Downers Grove South HS, Darien, Ill.) and juniors Chaney Tambling (Dwight HS, Dwight, Ill.) and Molly Etheridge (Normal Community HS, Bloomington, Ill.) to help ease the transition with a new coaching staff.
"We are approaching things a little differently and having Gianna, Molly and Chaney on board to help show the way we want things done has been a big help," he remarked. "We are going to have to have some of our young kids step up and it helps to have veterans who can show how we want things done."
Etheridge was the team's second leading scorer a year ago with an 11.1 points-per-game average and she pulled down 4.5 rebounds per game. She also shot .800 (80-100) from the free throw line and was second on the team in three point field goals made with 25 and in assists with 62. She will handle the point guard position this season.
Pecora was the third leading scorer on the team in 2011-12 at 8.3 per game and she averaged 4.0 rebounds per contest. She sank a team leading 31 three point field goals and shot .727 (48-66) from the free throw line. She had 52 assists and 22 steals as well. She will be at one of the wing positions and will be joined by junior Amy Hicks (Rockford Christian HS, Rockford, Ill.), who averaged 5.2 points and 2.6 rebounds last year, and freshman Natalie Tomerlin (Hinsdale South HS, Darien, Ill.).
Tambling will lend some stability to the front court after she started 22 of 25 games last year and averaged 4.7 points and 3.5 rebounds. Junior Jessica Baids (West Chicago HS, West Chicago, Ill.) played in 12 games last season and will be attempting to get back to her freshman year production when she averaged 4.7 points and 3.2 rebounds and appeared in all 25 games. Senior Devon DiIorio (Glenbard South HS, Glen Ellyn, Ill.) has been in the program for four years and Beinborn thinks she can contribute in her final season.
Sophomore Kayla Boers (Oswego East HS, Oswego, Ill.) and freshman Marissa Pezzopane (Addison Trail HS, Wood Dale, Ill.) bring some athleticism to the front line. Sophomore Julia Panozzo (Morgan Park HS, Chicago, Ill.) and freshman Alexandria Lee (Elgin St. Edwards Catholic HS, West Dundee, Ill.) will lend depth.
Others who could contribute to the Vikings cause this season include senior Lauren Hoffman (Wheaton North HS, Winfield, Ill.), sophomore Valerie VanRoeyen (Libertyville HS, Grayslake, Ill.) and freshman Maddie Kerr (Elgin St. Edwards Catholic HS, Streamwood, Ill.) at the two-guard and freshmen Andrea McNally (Hinsdale South HS, Burr Ridge, Ill.) and Dominique Hartsfield (Plainfield East HS, Romeoville, Ill.) at the point guard.
"We are looking for improvement each time we take the court," said Beinborn. "This has been a good group to coach so far and they have worked hard at what we have asked them to do."