Celebration of Christmas to open with Amahl and the Night Visitors
November  01, 2012
The Augustana College Department of Music will begin its annual Celebration of Christmas with Opera @ Augustana's production of Amahl and the Night Visitors, the Christmas opera by Gian Carlo Menotti. One of two other short operas also will be performed: The Shepherd's Play or Good King Wenceslas, both by Richard Shephard and Mark Schweizer. The opera will run November 16, 17 and 18 at 7 p.m. in Wallenberg Hall inside the Denkmann Memorial Building (3520 7th Ave.). Tickets are $12 for the general public; $10 for senior citizens, non-Augustana students; and $8 for children and Augustana students/faculty/staff.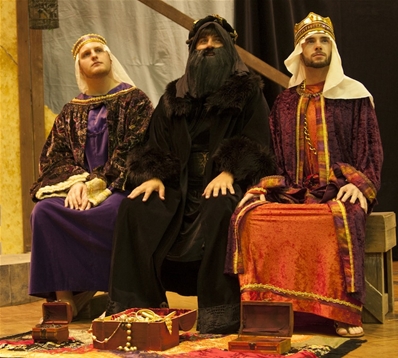 Dylan Hinrichs '13, Stuart Buthod '16 and Christopher Ward '15 portray the three kings.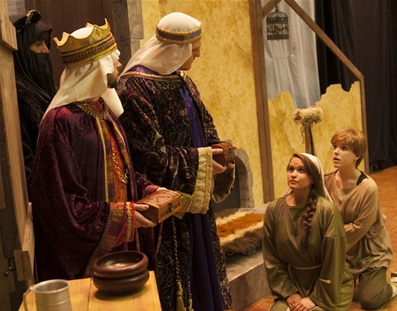 The three kings, Stuart Buthod '16, Christopher Ward '15 and Dylan Hinrichs '13, greet Mother (Elyssa LeMay '13) and Amahl (Rowan Crow '16).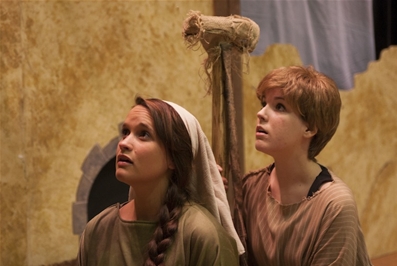 Mother (Elyssa LeMay '13) and Amahl (Rowan Crow '16) are amazed at the sight of the three kings at their door.
Amahl and the Night Visitors tells the story of how a disadvantaged shepherd boy's life changes forever when he sees an amazing star "as big as a window." When three foreign kings following the star in their search for a wondrous child encounter Amahl and his mother, the result is a timeless and inspiring message of how faith, charity, unselfish love and good deeds can work miracles.
Rowan Crow '16, who portrays Amahl, said, "I think this show is interesting because it gives the audience a new perspective on Christmas; we never really hear much about the three wise men. I think the show is a perfect mix of light comedy and deep religious significance. Listening to the music takes me back to when I was a little girl, excitedly awaiting Christmas morning, and in awe of the birth of Jesus. Except instead of Santa Claus, Amahl is visited by the three wise men, which, I now think, would be much more exciting."
Internationally renowned singer, dancer and director Lemuel Wade '89 will return to campus to direct the production. "It's great to come back to Augustana and see some of my professors who are still here, and to work with the students," said Wade. After graduating from Augustana, Wade continued his studies at The Boston Conservatory where he earned a master's degree in vocal performance. He has toured throughout the eastern United States and Europe in musical productions such as Hair, Guys and Dolls and Jesus Christ Superstar. He spent much of 2012 directing George Gershwin's famous work Porgy and Bess, first in Naples, Italy, at the Teatro Di San Carlo, and then at the Cincinnati Opera.
Tickets for all of the ticketed Celebration of Christmas events can be purchased through the Augustana Ticket Office at (309) 794-7306 or by visiting augustana.edu/tickets.
Sam Schlouch
Senior Communication Director
(309) 794-7833
samschlouch@augustana.edu