October 31, 2012
Viking grapplers 17th in NWCA Pre-season poll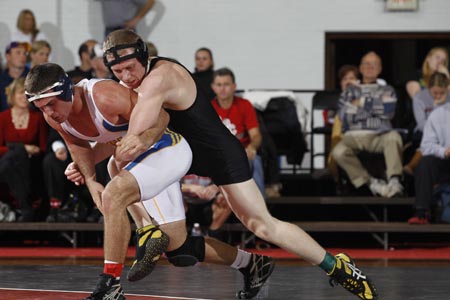 Augustana senior Matt Burns is the defending CCIW champion at 165 pounds. Burns and the Vikings have been ranked 17th in the nation in the 2012-13 NWCA Division III Pre-season Poll.
ROCK ISLAND, Ill.-With a pair of 2012 CCIW champions returning, coach Eric Juergens' Augustana wrestling team has garnered a ranking of 17th in the National Wrestling Coaches Association Division III pre-season poll. Juergens welcomes back defending conference champions Jordan Richardson (Granville HS, Wyoming, Mich.), who won the title at 174 pounds and Matt Burns (Naperville Central HS, Naperville, Ill.), who won at 165.
Richardson went on to earn All-America recognition with an eighth-place finish at the NCAA Division III Championship. He and Burns were both third-place finishers at the NCAA Great Lakes Regional. The return of 2011 CCIW and Great Lakes Regional 125-pound champion Jacob Scholten (Rockford HS, Grandville, Mich.) will help ease the loss of last year's 149-pound conference champ, Alberto Quiros, who shared CCIW Co-Most Outstanding Wrestler honors with Richardson.
In all, Juergens returns starters in seven weight classes.
Two-time defending national champion Wartburg topped the NWCA poll, followed by Augsburg. The Knights and Auggies own the last 18 NCAA Division III national championships, split evenly between the two schools. Coe was ranked third. The Vikings' CCIW rival Elmhurst earned a number four ranking, while North Central was 27th.
2012 NWCA Division III Pre-season Poll
| | | | | |
| --- | --- | --- | --- | --- |
| Rank | Team | | Rank | Team |
| 1. | Wartburg | | 16. | Wabash |
| 2. | Augsburg | | 17. | AUGUSTANA |
| 3. | Coe | | 18. | Johns Hopkins |
| 4. | Elmhurst | | 19. | Saint Olaf |
| 5. | Wisconsin- Whitewater | | 20. | Wesleyan |
| 6. | Wisconsin- La Crosse | | 21. | Dubuque |
| 7. | Cortland State | | 22. | Springfield |
| 8. | Centenary College (NJ) | | 23. | Saint John's |
| 9. | Luther | | 24. | Cornell |
| 10. | Ohio Northern | | 25. | Messiah |
| 11. | Ithaca | | 26. | The College of New Jersey |
| 12. | Olivet | | 27. | North Central (IL) |
| 13. | Wilkes | | 28. | Johnson & Wales (RI) |
| 14. | Concordia-Moorhead | | 29. | Central |
| 15. | Wisconsin- Stevens Point | | 30. | Stevens Institute of Technology |