October 30, 2012
CCIW champs to host semi-final match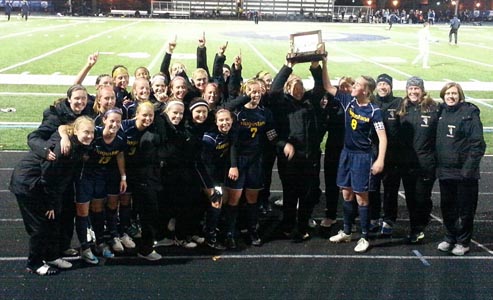 The Augustana Vikings celebrate winning the CCIW women's soccer championship for the second time in four years.
After winning the College Conference of Illinois & Wisconsin for the second time in the past four seasons, Augustana will host a semi-final match against North Central on Wednesday, October 31 at Thorson-Lucken Field. The Vikings, currently 15-3 overall and a perfect 7-0 in the CCIW, are the number one seed in the tournament and will entertain fourth-seeded North Central at 7:00 p.m. The winner of the match will advance to the CCIW championship match on Saturday, November 3 at the site of the highest remaining seed.
While veteran head coach Scott Mejia's team is playing host to North Central (6-8-3 overall and 2-3-2 in the CCIW) on Wednesday night, the other semi-final will take place on Tuesday, October 30 in Wheaton, Illinois. Number two seed Wheaton (15-3-2 & 5-1-1) will host third-seed Illinois Wesleyan (9-8-0 & 5-2-0) at 7:00 p.m.
Tickets for the Augustana and North Central match will be on sale at the gates of Thorson-Lucken Field beginning at 6:00 p.m. on Wednesday night. The cost is $6.00 per person and no season passes will be accepted.
Last week the Vikings clinched the CCIW title with a 1-0 win at Wheaton on October 24 with senior Taylor Moesle (Carl Sandburg HS, Orland Park, Ill.) scoring the lone goal of the match. They finished the league season undefeated with a come-from-behind 3-2 win at Elmhurst on Saturday, October 27.
Augustana won its only other CCIW title in 2009, also with a perfect 7-0-0 mark and that year the Vikings advanced to the Sweet 16 of the NCAA Division III national title. Augustana has NCAA Division III tournament appearances in 2005, 2006, 2009 and 2010. Mejia's team is 3-3-1 in four NCAA appearances.
Moesle had an assist at Elmhurst and that was her 11th of the season, breaking Lauren Polock's single-season school record set in 2009. She's also second on the team with a dozen goals. Freshman Kelly Farell (St. Urusla Academy, Sylvania, Ohio) leads the Vikings with 13 goals, tied for ninth most in school history, and her nine assists are the third-highest season total in school history. The pair is tied for the team lead with 35 points, fifth-most in a season at Augustana. Moesle continues to climb the school's career lists as well. She now ranks fourth all-time with 40 goals, second with 28 assists and third with 108 points.
Freshman goalkeeper Meredith Chew (Paradise Valley, Phoenix, Ariz.) got the shutout against Wheaton and is 15-3 on the year with a goals against average of 0.95 and a save percentage of .817.
Mejia is in his 12th season as the Vikings' head coach and he has compiled an overall record of 163-60-17 (.714) and a CCIW mark of 56-21-7 (.708). Augustana has been in double digits in victories in each of Mejia's 12 years at the helm.