October 29, 2012
Westerberg CCIW Defensive Player of the Week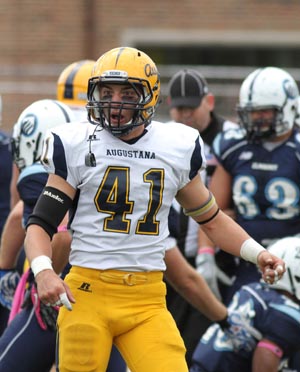 Augustana junior linebacker Erik Westerberg is this week's CCIW Defensive Player of the Week.
NAPERVILLE, Ill. - Augustana junior linebacker Erik Westerberg (York HS, Elmhurst, Ill.) has been named the CCIW's Defensive Player of the Week. Westerberg had a season-high 12 solo tackles and 15 total as the Vikings defeated Carthage 38-13 at Ericson Field Saturday. Two of his tackles went for negative yardage and he had a sack and forced fumble as well.
On the season, the 6' 3", 210-pound Westerberg leads the Vikings with 108 total tackles, 60 solo stops, 48 assists and 13 tackles for loss. He's second on the team with four sacks and has one interception and one fumble recovery. He ranks third in the nation in total tackles with an average of 13.50 per contest and is tied for fifth in solo tackles at 7.50 per game.
A first team All-CCIW pick after leading the conference in tackles last year, Westerberg is pacing the conference again this season with 64 in five games. He leads the league in assisted tackles and is second in solo stops and tackles for loss. He also ranks in the top ten in sacks.
Erik is the son of Annette and Peter Westerberg of Elmhurst, Illinois. He is a mathematics major and was a second team Capital One Academic All-America selection last year. He becomes the second Viking to earn CCIW Player of the Week honors this season. Senior quarterback Nick Welch (Oswego HS, Oswego, Ill.) won the league's offensive award on September 17.