October 27, 2012
Viking women second at IWU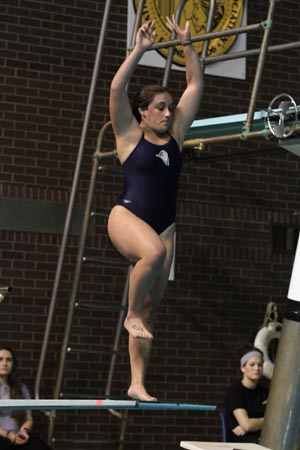 Junior Helen Myers won the one-meter diving competition Saturday at Illinois Wesleyan's Halloween Invitational.
BLOOMINGTON, Ill.-Two-time CCIW champion Helen Myers (Pecatonica HS, Rock City, Ill.) won the one-meter diving competition and Augustana also picked up wins in three relay events Saturday to take second place at the Illinois Wesleyan Halloween Invitational.
Myers tallied 205.35 points to win the one-meter event and freshman Adelia Clark (Linn Mar HS, Marion, Ill.) took third with 171 points.
The Viking 500 freestyle relay swam to victory in 4:57.44. Seniors Alexandra Piper (Coal City HS, Coal City, Ill.) and Molly Clennon (Benet Academy, Naperville, Ill.) handled the first and third legs, respectively, with junior Hillary Ferguson (Waubonsie Valley HS, Naperville, Ill.) and freshman Emma Novak (Eden Prairie HS, Eden Prairie, Minn.) swimming the second and anchor legs.
Seniors Emma Regnier (Grayslake North HS, Lake Villa, Ill.) and Emily Timmons (West Aurora HS, North Aurora, Ill.) teamed with freshman Jordan Johnson (Appleton North HS, Appleton, Wis.) to win the 3x100 breaststroke relay in 3:46.87. Regnier led off with Timmons anchoring. Regnier Timmons and Novak won the 3x100 medley relay in 3:23.32.
Timmons swam a 2:45.57 to take second in the 200 breaststroke with sophomore Laura Pemberton (Fremont HS, Fremont, Neb.) finishing third in 2:48.58. Clennon had a second-place finish with a 2:08.27 in the 200 freestyle and took third in the 500 freestyle with a time of 5:51.69. Ferguson finished in a rare dead heat (:58.96) for second in the 100 freestyle.
Illinois Wesleyan won the team title with 82 points, followed by Augustana (70.5) and Millikin (50.5).
Coach Scott Johannsen's Vikings will next compete in a dual meet at Monmouth on November 16 at 6:00 p.m.