October 27, 2012
Vikings close season with loss at Elmhurst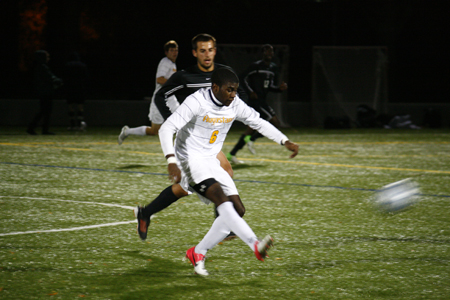 Augustana freshman Cole Collins scored his first collegiate goal Saturday, but it wasn't enough to keep the Vikings from falling 3-1 at Elmhurst.
ELMHURST, Ill.-Elmhurst's Mikey Emig scored twice in the second half Saturday to give Elmhurst a 3-1 win over Augustana. The loss brings to an end the Vikings' 2012 season. They finish 6-9-3 overall and 2-4-1 in the CCIW. The Bluejays close the year at 9-10 overall and 1-6 in the conference.
Reggie Thedford put the hosts ahead 1-0 in just the second minute, scoring his first goal of the season on an assist from Alex Wilkinson.
Augustana freshman Cole Collins (Lisle HS, Lisle, Ill.) tied it in the 43rd minute, beating Bluejay keeper John Reglin with a blast from the top of the box. Senior Nick Wolfe (Neuqua Valley HS, Naperville, Ill.) was credited with the assist on the play.
Emig's seventh goal of the season, with an assist from Michael Delong, put the hosts back in front 2-1 in the 58th minute. In the 81st minute, Emig put the match out of reach with his eighth of the season, this one assisted by Andrew Moore.
The hosts had a 16-14 advantage in shots, including 9-7 in shots on goal. The Vikings held the edge in corners, 5-1. Both Reglin and Augustana keeper Brett Johnson (Zion Benton HS, Beach Park, Ill.) recorded six saves.