October 27, 2012
Vikings complete perfect CCIW season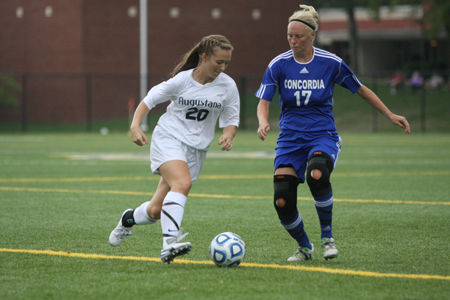 Kelly Farell's team-leading 13th goal of the season was a game-winner Saturday, alllowing Augustana to escape Elmhurst with a 3-2 win and a perfect CCIW regular season record of 7-0-0.
ELMHURST, Ill.-A pair of late goals Saturday allowed Augustana to defeat Elmhurst 3-2 and complete its 2012 CCIW regular season with a perfect 7-0-0 record. The Vikings, now 15-3 overall, will host either North Central or North Park on Wednesday, October 31, in the first round of the CCIW tournament. Elmhurst finishes its season 8-6-3 overall and 1-4-2 in the conference.
With Augustana trailing 2-1 in the 78th minute, senior Taylor Moesle (Sandburg HS, Orland Park, Ill.) got free and took a lead pass from freshman Jessica Kras (Glenbard North HS, Carol Stream, Ill.). Moesle beat Bluejay keeper Maddie Fitzpatrick for her 12th goal of the season to tie the match at 1-1. Then, seven minutes later, freshman Kelly Farell (St. Ursula Academy, Sylvania, Ohio) scored the go-ahead goal off a Moesle assist. The goal was Farell's team-high 13th of the year and the assist was Moesle's 11th of the season, setting a new school record. The Vikings didn't allow Elmhurst a shot over the final five minutes and came away with the victory.
The hosts got on the board in the 11th minute. The Bluejays' Amy Baschen got free on a breakaway and Augustana keeper Meredith Chew (Paradise Valley HS, Phoenix, Ariz.) was able to make the initial save, but Baschen beat her with the rebound for her seventh goal of the season and a 1-0 Elmhurst lead. Although the teams fired a combined 19 shots in the opening half, Baschen's was the only goal and the game went to intermission 1-0.
Junior Amanda Tucker (Crete-Monee HS, Crete, Ill.) leveled the score at 1-1 in the 61st minute with her first goal of the season. It came on a header and Farell was credited with the assist.
In the 69th minute, Jordin Clark gave the Bluejays back the lead with her second goal of the season. Emily Heimerdinger got credit for the assist.
Augustana ended up with a 20-17 advantage in shots, including a 13-12 edge in shots on goal. The visitors also had four corners in the match, to just one for Elmhurst. Chew recorded 10 saves, while Fitzpatrick had eight.