October 27, 2012
Vikings second, Jones fifth at CCIW Meet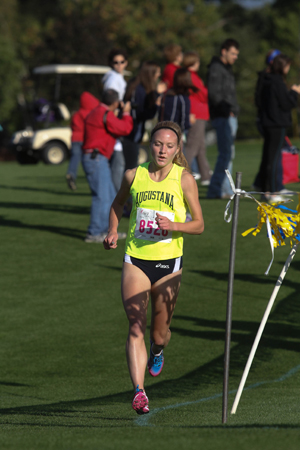 Senior Sarahbeth Jones finished fifth at Saturday's CCIW Cross Country Championship, helping the Vikings to a sceond-place team finish, their highest since 2000.
WARRENVILLE, Ill.-Behind a fifth-place finish from senior Sarahbeth Jones (Warren Township HS, Glen Allen, Va.), Augustana took second place Saturday at the CCIW Cross Country Championship. It was the highest finish for coach Fred Whiteside's Vikings since a second-place finish in 2000. Illinois Wesleyan won the 2012 team title.
Jones completed the 6,000-meter course at St. James Farm in 22:43, 44 seconds off the pace of individual champion Rachael Williams of Illinois Wesleyan.
Three Vikings were bunched in spots 15 through 17. Junior Kristyn Barton (York HS, Elmhurst, Ill.) finished in 23:26, senior Kirstillyn Pohlman (Zion Benton HS, Winthrop Harbor, Ill.) in 23:27 and junior Kate Benge (Pleasant Valley HS, Bettendorf, Iowa) in 23:33.
Sophomore Lizzie Lundine (Willowbrook HS, Villa Park, Ill.) finished 22nd in 23:47. Senior Annie Heifner (Oregon HS, Oregon, Wis.) was 31st in 23:58 and senior Tara Bistry (Joliet Catholic HS, Joliet, Ill.) rounded out the Viking point-scorers with a 33rd-place 24:00.
Sophomore Jessica Bacon (Rock Island HS, Rock Island, Ill.) ran a 24:05 to finish 35th, while junior Kelsey Stockert (Peoria Notre Dame HS, Mapleton, Ill.) was 39th in 24:16 and sophomore Becca Sund (Palatine HS, Palatine, Ill.) finished 45th in 24:31.
Illinois Wesleyan finished with 32 points to claim the championship. Augustana was second with 74, followed by Wheaton (88) and North Central (98). Carthage was fifth with 127 points, Elmhurst (150) sixth, Millikin (180) seventh and North Park (250) eighth.
On Saturday, November 10, the Vikings will be competing at the NCAA Division III Midwest Regional in Winneconne, Wisconsin.