October 27, 2012
Augustana third at CCIW Championship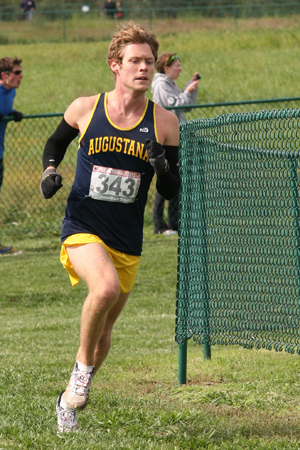 Senior Jonathan Smith finished fifth at Saturday's CCIW Championship at Warrenville, Illinois.
WARRENVILLE, Ill.-Senior Jonathan Smith (Moline HS, Moline, Ill.) ran a 24:45 Saturday to finish fifth at the 2012 CCIW Championship hosted by Wheaton College. Smith's effort helped Augustana finish third as a team. North Central won its 39th consecutive conference title with Wheaton finishing second.
Freshman Keith Sands (United Township HS, Silvis, Ill.) was the Vikings' next-highest finisher. He covered the eight kilometer course at St. James Farm in 25:03 to place 10th. Seniors Justin and Nathan Smith (Fenton HS, Bensenville, Ill.) finished 14th and 15th, respectively, just two seconds apart. Justin ran a 25:18 and Nathan finished in 25:20.
Freshman Dan Popek (Minooka HS, Minooka, Ill.) was 20th in 25:48 and junior Tyler Busch (Winnebago HS, Winnebago, Ill.) 25th in 26:10. Freshman Ethan Koch (Prospect HS, Mt. Prospect, Ill.) rounded out the Viking top seven with a 32nd-place 26:28.
Sophomore Nick Gornick (York HS, Elmhurst, Ill.) and senior Tommy Harris (Assumption HS, Davenport, Iowa) rounded out the Augustana contingent with times of 26:43 and 26:51, respectively. Gornick finished 38th and Harris was 42nd.
North Central's Dan Kerley ran a 24:33 to claim individual honors, two seconds ahead of teammate John Crain and three ahead of Cardinal Yonatan Mascote. North Central also had the sixth and seventh-place finishers and finished with 19 points, easily outdistancing Wheaton (55) and Augustana (62). Illinois Wesleyan, with 124 points, was fourth, followed by Carthage (152), Elmhurst (168), Millikin (212) and North Park (252).
On Saturday, November 10, coach Paul Olsen's Vikings will be competing at the NCAA Division III Midwest Regional in Winneconne, Wisconsin.