October 27, 2012
Vikings ride big first half to win over Carthage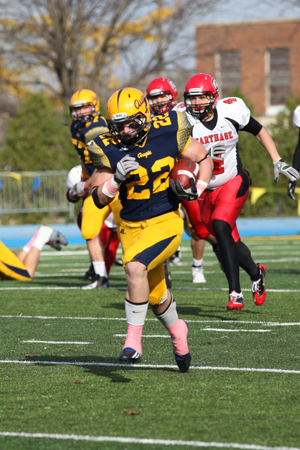 Senior linebacker Joe Spindler returns a blocked field goal against Carthage at Ericson Field Saturday. Spindler's efforts helped the Vikings get a 38-13 win over the Red Men.
ROCK ISLAND, Ill.-Augustana jumped out to a 31-0 second-quarter lead Saturday and went on to a 38-13 win over Carthage at Ericson Field. The win evens the Vikings' record at 4-4 this season and they moved into a fourth-place tie in the CCIW at 3-2. The Red Men fall to 3-5 overall and 1-4 in the league.
After each team was forced to punt on its first possession, Augustana took over at its own 34-yard line with 10:49 left in the first quarter. The Vikings put together a methodical drive which covered the 66 yards in 11 plays. Senior running back Brett McWilliams (Hononegah HS, Roscoe, Ill.) went in untouched from eight yards out for the go-ahead score. 62 of the yards on the march came via the ground game including 35 by junior Eric Chandler (Cary-Grove HS, Cary, Ill.).
Senior quarterback Nick Welch (Oswego HS, Oswego, Ill.) and company went right back to work after the defense forced a Carthage three-and-out, going 61 yards in seven plays. Welch found Antonio Owens (Naperville North HS, Chicago, Ill.) running free down the left sideline and hit him for a 26-yard touchdown. Brady Rogers' (Cherokee Trail HS, Parker, Colo.) PAT made it 14-0 Augustana with 52 seconds remaining in the first quarter.
After giving up just 12 first-quarter yards to the Red Men, the Viking defense got into the scoring act on the second play of the second quarter. Sophomore Bo Goshorn (Romeoville HS, Romeoville, Ill.) picked off an A.J. Simoncelli pass and brought it back 59 yards down the right sideline for a touchdown. The point after gave the Vikings a 21-0 advantage.
Another interception, this one from junior Tim Maroder (Burlington Central HS, Elgin, Ill.), set up Augustana's next scoring drive. Rogers converted a 35-yard field goal to cap a 10-play, 61-yard drive that featured a 36-yard run by junior slotback Kyle Snow (Wheaton Warrenville South HS., Wheaton, Ill.).
The Vikings took over at their own 41 after another Carthage three-and-out and went 59 yards in six plays to score on their fifth straight possession. Welch finished off the march, finding sophomore Torre Harrell (Bloomington HS, Bloomington, Ill.), who made a nice adjustment on the play, for a 32-yard touchdown pass and a 31-0 lead.
Augustana missed an opportunity for a score on its sixth straight possession when Rogers' 35-yard field goal attempt went wide left. Carthage responded with a 10-play, 80-yard march to get on the board. Simoncelli hit T.J. Trepanier with a six-yard scoring strike with 1:14 left in the half. The teams went to the locker room with Augustana ahead 31-7.
Each team failed to gain a first down on its first two third-quarter possessions before the Red Men put together an 11-play, 60-yard drive. Viking corner Matt Glawe (Wheaton Warrenville South HS, Winfield, Ill.) stymied them however, intercepting a Simoncelli pass in the end zone.
Carthage's next drive moved the ball 57 yards in 14 plays before bogging down at the Augustana 24. On fourth-and-16, the Red men lined up for a 41-yard field goal attempt. John Draminski (Wethersfield HS, Kewanee, Ill.) got a hand on Brett Bukari's kick sending it up in the air. Augustana's Joe Spindler (Hononegah HS, Rockton, Ill.) caught it in stride and brought it all the way back to the Carthage 10 before being dragged down by Red Men holder Pete Djurickovic. Two plays later, Welch found freshman Jawan Straughter (Plainfield East HS, Bolingbrook, Ill.) on a slant and Straughter slipped a tackle to get into the end zone on his first collegiate reception. The play covered 12 yards and Rogers' point after made it 38-7 Vikings.
An eight-yard Simoncelli to Nick Gremley touchdown pass with five minutes left finished the day's scoring.
The Augustana defense forced six Carthage turnovers on the day. In addition to his interception, Maroder recovered a fumble and forced another. Junior linebacker Erik Westerberg (York HS, Elmhurst, Ill.) recorded 15 tackles (12 solo), including two for loss, and forced a fumble. Draminski had eight tackles, including a pair of sacks, in addition to the blocked field goal. The Vikings held Carthage to 53 yards on 27 rushes.
Chandler rushed for 89 yards on 16 carries to lead the Augustana ground game. Welch was quietly efficient through the air, completing nine of 12 passes for 96 yards and three touchdowns. Harrell caught four passes for 34 yards and one score. Simoncelli had a busy day for the Red Men, hoisting 65 pass attempts and completing 35 for 320 yards and two touchdowns. The Vikings intercepted him three times.
On Saturday, November 3, Augustana travels to Bloomington, Illinois to face Illinois Wesleyan. That contest, between the two teams tied for fourth in the CCIW, is scheduled for a 1:00 p.m. start.