October 26, 2012
Vikings win a pair at Pumpkin Bash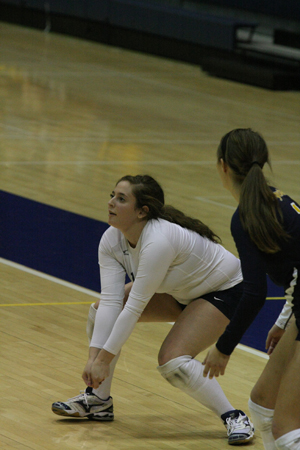 Sophomore Julee Morrison recorded eight digs in each of Augustana's two wins at the Pumpkin Bash Friday at Carver Center.
ROCK ISLAND, Ill. - Augustana won a pair of matches in three sets each Friday on the first day of the Pumpkin Bash at Carver Center. The Vikings took care of Concordia (Wis.) in their afternoon match and came back in the evening to defeat Buena Vista. The tournament continues on Saturday with Augustana, now 18-10 on the year, facing Iowa Wesleyan at noon and Principia at 4:00 p.m.
AUGUSTANA 3, CONCORDIA (Wis.) 0 (25-12; 26-24; 25-8)
Augustana won its match versus Concordia in three straight. The Vikings led the entire first set and pulled away for a 25-12 win. They jumped out in front in set two as well, but the Falcons came back to lead much of the way before falling 26-24. The third set was tied 7-7 before Augustana won 18 of the last 19 points for a 25-8 win. The hosts improved to 17-10 on the year, while Concordia dropped to 8-20.
Freshman Martha Murray (Evanston Township HS, Evanston, Ill.) led the Vikings with 11 kills and sophomore Emily Leazer (St. Viator HS, Mt. Prospect, Ill.) added eight to go along with three service aces. Freshmen Jordan Hampel (Hilliard Davidson HS, Hilliard, Ohio) had a team-high 24 assists and classmate Kylie Siebert (Kaneland HS, Sugar Grove, Ill.) led the way with four aces.
Augustana got a balanced defensive effort, with five Vikings recording at least seven digs. Hampel and Leazer led the way with nine each, Siebert and sophomore Julee Morrison (Chaparral HS, Scottsdale, Ariz.) had eight and Murray contributed seven. Senior Sarah Williams (Rockford Lutheran HS, Loves Park, Ill.) had four blocks.
AUGUSTANA 3, BUENA VISTA 0 (25-23; 25-17; 25-17)
Augustana pulled out a 25-23 win in its first set with Buena Vista, before taking the next two by identical 25-17 scores. The Vikings improved to 18-10 on the year, while the Beavers fell to 5-25.
Hampel had 34 assists, 11 digs and three service aces. Leazer led the way with 12 kills, one more than sophomore Dory Dudley (Tremont HS, Tremont, Ill.). Murray had eight kills as well. Siebert had a team-high 17 digs, with Morrison and Leazer adding eight and six, respectively. Williams was in on three blocks.