October 26, 2012
Vikings look forward to successful campaign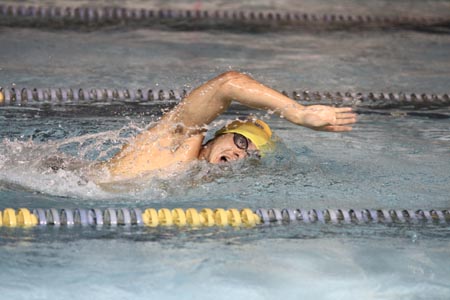 Senior Chris Greaves is a team captain for what promises to be a highly successful 2012-13 season for the Augustana men's swimming & diving team.
Multiple school records in jeopardy as Vikings prepare for successful 2012-13 season
Scott Johannsen doesn't mince any words when he talks about his Augustana men's swimming & diving team's chances heading into the 2012-13 season. The fifth year head coach is extremely optimistic as he glances up and down the Vikings roster.
"This team could be very good," said Johannsen, who has compiled a record of 12-10 in his first four seasons and has twice been named the "Coach of the Year" in the College Conference of Illinois & Wisconsin. "I believe we have the talent to challenge most, if not all, of our existing school records."
A year ago Johannsen's team broke six school records, four individual and two relay marks. Johannsen thinks that his team has more balance than at any time since he took over the program in 2008. He has concerns about depth but he likes his front-line talent.
"We will have very good people in all the events," he said. "We really don't have a weak event. We have a nice mix of some experienced veterans and talented newcomers. We aren't quite as deep in some areas as I would like but we are definitely better than we were a year ago."
Augustana was 4-3 in dual meets last year and placed fifth in the CCIW with 372.5 points and were less than 100 points out of third place. The Vikings won the Illinois Wesleyan Invitational, finished third in the Pioneer Classic and fourth in the Grinnell Invitational.
EVENT BREAKDOWN
FREESTYLE - Sophomore Aaron Holt (Mount Vernon HS, Mount Vernon, Ill.) broke on the scene in a big way in 2011-12 when he set four individual school records. He had the fastest time on the team in the 50 (:22.19) and 100 (:48.68) freestyle events. Those are the eighth and ninth best times in Augustana history. He will lead the sprint corps this year but will get help from junior Daniel Hinck (Harlem HS, Loves Park, Ill.). Hinck owns the second fastest time in school history in the 100 (:47.25) and third best in the 200 (1:44.33). Freshman Felipe Hernandez (United Township HS, East Moline, Ill.) will be used in a variety of the freestyle events and sophomore Tim Michaels (Pella HS, Pella, Iowa) will help out here as well.
In the middle and longer distance freestyle events Johannsen and the Vikings welcome back junior Justin Reppy (Oswego HS, Oswego, Ill.). Reppy was the CCIW champion in the 200, 500 and 1650 freestyle events as a freshman in 2010-11 before sitting out last season. He also owns the Augustana school record at each of those distances. Hinck will swim in the longer races as well and sophomore Michael Duy (Marmion Academy, Aurora, Ill.) was a CCIW placewinner a year ago. Senior captain Chris Greaves (Morris HS, Morris, Ill.) has enjoyed an outstanding career and will be a valuable contributor at a variety of distances. Junior Austin Zarbuck (Urbana HS, Urbana, Ill.) and Reppy will be a solid duo in the 1650.
BREASTSTROKE - Hernandez and junior Jasen Hengst (Bettendorf HS, Bettendorf, Iowa) will be solid in the breaststroke along with junior Ryan Chaney (Pleasant Valley HS, Bettendorf, Iowa). Johannsen thinks all three have the potential to place in the CCIW final.
BUTTERFLY - Holt is the school record holder in the 100 butterfly at :50.87 and he could challenge for a conference title in the event. Freshman David Sommers (Westlake HS, Thousand Oaks, Calif.) will also be a factor in the butterfly and his specialty is at the 200 meter distance. Freshman Adam Bernardi (Rockford Boylan Catholic HS, Belvidere, Ill.) is a solid performer also.
BACKSTROKE - Holt was a placewinner in both backstroke events at the CCIW meet as a freshman and he owns the school record in both the 100 (:52.50) and 200 (1:56.00). Hernandez will be right with Holt and freshmen Kyle Johnson (Shadow Mountain HS, Phoenix, Ariz.) and Austin Small (Morris HS, Morris, Ill.) make this a very deep event for the Vikings.
INDIVIDUAL MEDLEY - Holt and Somers once again give Augustana big point potential in any meet. Holt holds the school record in the 200 IM at 1:55.62). Bernardi and sophomore Alexander Putz (Oak Forest HS, Oak Forest, Ill.) will be used here as well.
DIVING - Sophomore Josh Wielenga (School Environmental Study, Apple Valley, Minn.) was fourth in both the one and three meter events last year in the CCIW meet. He returns for his sophomore season and has added some dives to his arsenal.