October 24, 2012
Wheaton defeats Vikings to stay atop CCIW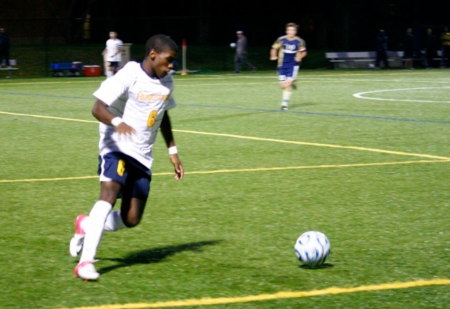 Freshman midfielder Cole Collins played the full 90 minutes Wednesday in Augustana's 3-0 loss at Wheaton.
WHEATON, Ill.- Wheaton's Stephen Golz scored a back-breaking goal with less than a minute to play in the first half and the Thunder went on to a 3-0 win over Augustana Wednesday night at Joe Bean Stadium. Wheaton moves to 13-3-2 overall and stays atop the CCIW standings at 5-0-1. The Vikings fall to 6-8-3 overall and 2-3-1 in the league.
Noah Anthony's third goal of the season had given the Thunder a 1-0 lead in the 32nd minute, but it looked like the Vikings would get to intermission trailing by just that single goal. However, Golz got an assist from Kevin Skinker in the 44th minute to score his fourth goal of the season and give Wheaton a 2-0 halftime lead.
Adam Blackman and Elliot Borge teamed up for the Thunder to make it 3-0 in the 59th minute. Borge scored his second goal of the season with an assist from Blackman.
The Wheaton defense stifled the Vikings all night. Junior Josh Bennett (Wheaton North HS, Winfield, Ill.) got off two of Augustana's three shots on the night, including the team's only shot on goal. The hosts took 12 shots and had a 5-0 advantage in corners.
Junior Tyler Cowherd (Bettendorf HS, Bettendorf, Iowa) went the distance in goal for the Vikings, recording one save. He is now 3-4-2 on the season.
In fifth place and battling for a conference tournament berth, coach Brenton Josephs' Vikings wrap up regular season play Saturday, October 27 at Elmhurst. Augustana takes on the Bluejays (8-9; 0-5) at 7:30 p.m. in the second half of a women's/men's doubleheader.