October 24, 2012
Vikings clinch CCIW title with win at Wheaton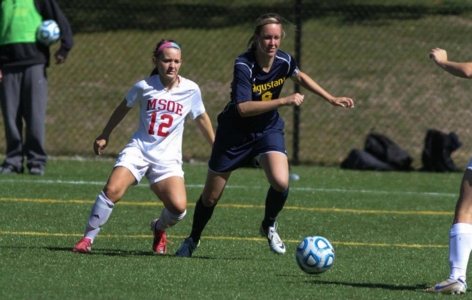 Senior Taylor Moesle's 11th goal of the season gave Augustana a 1-0 win at Wheaton Wednesday night, clinching the CCIW championship for coach Scott Mejia's Vikings.
WHEATON, Ill.- Senior Taylor Moesle's (Sandburg HS, Orland Park, Ill.) 11th goal of the season was the only score of the match, but it was enough to give Augustana a 1-0 victory at Wheaton Wednesday night. With the win, the Vikings clinch the 2012 CCIW title. They improve to 14-3 overall and 6-0 in the league. The 14th-ranked Thunder are now 14-3-2 on the year and 4-1-1 in the conference.
The first half was evenly played, with the hosts getting off eight shots to the Vikings' six. Augustana put four of theirs on goal, however, to three for Wheaton, while the Thunder had a 3-1 edge in corners.
Freshman goalkeeper Meredith Chew (Paradise Valley HS, Phoenix, Ariz.) kept the match scoreless with a diving save on a shot by the Thunder's Leah DeMoss in the 19th minute. Moesle, the reigning CCIW Offensive Player of the Week, gave the Vikings the lead in the 34th minute, beating Wheaton keeper Hilary Barreto with a shot just inside the left post from 18 yards out.
Augustana survived an 8-2 shot deficit and five more Wheaton corners in the second half. Chew made her fifth and final save of the match on a Keri Shannon shot with 19 seconds left to preserve the victory.
Junior Maggie Hoscheit (St. Charles East HS, St. Charles, Ill.) returned from an injury to anchor the Viking back line along with senior Morgan Olsen (Downers Grove North HS, Woodridge, Ill.), sophomore Kerri Skotnicki (Waubonsie Valley HS, Aurora, Ill.) and junior Stephanie Barr (Plainfield North HS, Plainfield, Ill.). Augustana shutout a Thunder offense that had been averaging over three goals per game. It was the team's eighth whitewash of the season and Chew's fifth solo shutout.
Wheaton wound up with a 16-8 edge in shots, but the visitors actually put more on goal, six to five. The Thunder also had an 8-1 advantage in corners.
The CCIW title is Augustana's second. The Vikings were undefeated conference champions in 2009. Coach Scott Mejia's club will try to complete a perfect conference season when it travels to Elmhurst (8-5-3; 1-3-2) on Saturday, October 27. That match is scheduled for 5:00 p.m. and will be the opener of a women's/men's doubleheader.