October 23, 2012
Wheaton knocks off Vikings in five sets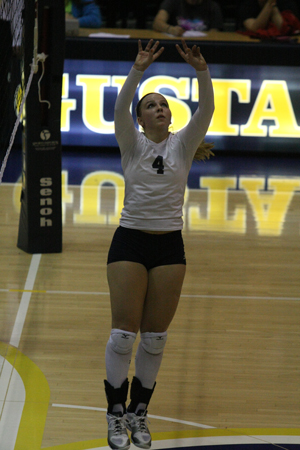 Freshman setter Jordan Hampel had 54 assists Tuesday night, but it wasn't enough to keep the Vikings from falling to Wheaton in five sets at Carver Center.
ROCK ISLAND, Illinois - Augustana won the first two sets Tuesday night at Carver Center, but couldn't finish off visiting Wheaton, falling in five sets. The Vikings are now 16-10 on the year and end up 2-5 in CCIW play. The Thunder improves to 11-20 overall and 2-5 in the league.
Augustana won 25-20 and 25-15 before dropping the third set 25-19 and the fourth 25-21. The Vikings led 8-5 when the teams switched sides in the deciding set, but couldn't hold on as Wheaton came back for the 15-11 win.
Sophomore Emily Leazer (St. Viator HS, Mt. Prospect, Ill.) led Augustana with 31 kills and freshman Emilie Willingham (Kirkwood HS,, Kirkwood, Mo.) added 13. Freshman libero Kylie Siebert (Kaneland HS, Sugar Grove, Ill.) had team highs of 28 digs and three service aces and freshman setter Jordan Hampel (Hilliard Davidson HS, Hilliard, Ohio) recorded 54 assists.
Coach Jamie Walters' Vikings host their eight-team Trick-or-Treat tournament this weekend. On Friday, October 26, they'll face Concordia (Wis.) at 4:00 p.m. and Buena Vista at 8:00 p.m. On Saturday, October 27, they'll take on Iowa Wesleyan and Principia at noon and 4:00 p.m., respectively.