October 23, 2012
Moesle named CCIW "Player of the Week"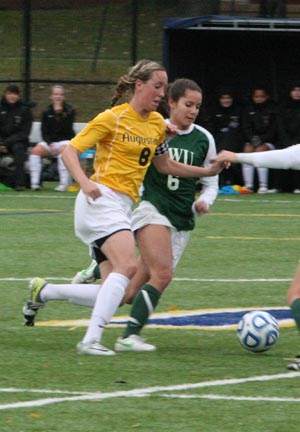 Senior Taylor Moesle was selected as the "Player of the Week" in the College Conference of Illinois & Wisconsin after scoring two goals and recording two assists in a pair of Augustana victories last week.
Senior midfielder Taylor Moesle (Carl Sandburg HS, Orland Park, Ill.) was named the "Player of the Week" in the College Conference of Illinois & Wisconsin after leading Augustana to a pair of victories last week. She was instrumental as the Vikings defeated national ranked Wartburg 4-2 on Wednesday, October 18 in Waverly, Iowa and then took care of North Central 3-2 on Saturday, October 20 at Thorson-Lucken Field.
Moesle finished the week with two goals and two assists. She scored the first goal of the game against Wartburg and later added an assist on a goal by Kelly Farell (St. Ursula Academy, Sylvania, Ohio). She followed that performance with a goal and an assist in the win against North Central. Her assist came on a goal by freshman Somer Druszkowski (Lincoln-Way Central HS, Manhattan, Ill.) that made the score 2-0 at 19:46 and then Moesle scored herself less than a minute later at 20:34.
So far this year Moesle has 10 goals and 10 assists for 30 points. Her 30 points are second on the team and tied for eighth-best in school history. In addition, the two-time Viking Offensive MVP is shooting up the career charts at Augustana. Her 38 goals are fourth most in school history and she ranks second in assists (27) and fourth in points (103).
Augustana is currently 13-3-0 overall and 5-0-0 in the CCIW and the Vikings are ranked fifth in the NCAA Division III's Central Region.
Moesle is the daughter of Michael and Lynn Moesle of Orland Park, Illinois. She is a communications major.