October 23, 2012
WOMEN'S TENNIS 2012-13 FALL REVIEW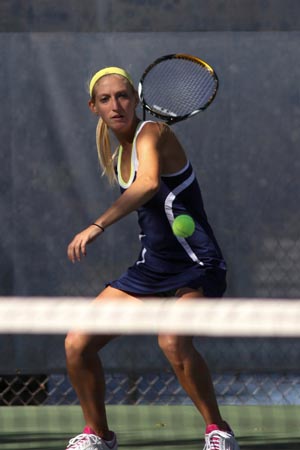 Junior Kim Sawyer was named the CCIW Player of the Year after winning the number one singles title in the 2012 conference tournament. She helped lead the Vikings to an 8-3 dual meet record and runner-up finishes in both the regular season and the CCIW tournament.
Vikings second at CCIW Championship; Kim Sawyer and Krista Panko claim individual titles; Sawyer named conference Player of the Year; Panko wins CCIW Championship MVP
Behind junior Kim Sawyer (Batavia HS, Batavia, Ill.) and senior Krista Panko (Geneva HS, Geneva, Ill.), coach Jon Miedema's women's tennis team had a banner fall season, which included a second-place finish at the CCIW Championship. Sawyer and Panko each claimed conference singles titles and won CCIW Player of the Year and CCIW Championship MVP honors, respectively.
The Vikings finished the fall season with an 8-3 record in dual meets, including 5-1 against CCIW competition. Augustana won 41 of 54 individual matches in league dual meet play. The team's second-place finish at the CCIW Championship matched that of the 2010-11 squad as the best since the 1997-98 team claimed Augustana's last conference title. Wheaton won its eighth consecutive CCIW team title with 75 points to the Vikings' 49.
A 7-2 loss at Grinnell and a seventh-place finish at the UW-Whitewater Warhawk Invitational opened the season, but the Vikings got on track with a 9-0 whitewash of Loras. A 7-2 win over North Central opened CCIW play and was followed by back-to-back 9-0 wins over Millikin and Illinois Wesleyan. Panko's three-set win at number three singles clinched a 5-4 win over Carthage on September 12. Augustana defeated Elmhurst 9-0 on September 15, but fell 9-0 to Division II Upper Iowa later in the day. After a 7-2 win at Cornell, the Vikings wrapped up fall dual meet play on September 23. They lost 7-2 to Wheaton, but rebounded with a 9-0 win over St. Ambrose. Competition at the Intercollegiate Tennis Association Central Region meet in St. Louis, Missouri preceded the CCIW Championship tournament.
Sawyer's CCIW title at number one singles was Augustana's first since Sarah Ainsworth's 1997. Sawyer also became the first Viking to earn the league's Player of the Year award since its inception in 2003. She finished the fall season with a 15-2 singles record and now sports a career record of 71-16 in singles play. That win total ranks fourth all-time at Augustana and her career singles winning percentage of .816 is currently best in school history. She teamed with freshman Aileen MacDonald (Mundelein HS, Mundelein, Ill.) for a third-place CCIW finish at number one doubles. The pair went 10-5 this fall. With a career doubles record of 47-31, Sawyer now ranks in a tie for 12th on Augustana's all-time total wins list with 118.
Panko became the first Viking ever named CCIW Championship MVP, winning the singles title at number three and teaming with senior Meghan Wethington (Geneseo HS, Geneseo, Ill.) for a second-place finish at number three doubles. Panko was a second team All-CCIW selection and was also named the conference's Player of the Week on September 19. She finished the fall with an 11-8 singles record and is now 57-45 for her career. She also went 12-4 in doubles, giving her 62 career wins, which is tied for eighth all-time at Augustana. Panko's 119 total wins rank 11th all-time and she and Wethington have a career 12-4 doubles record, a .750 winning percentage which is seventh-best in school history.
Wethington posted a doubles record of 13-7 this fall, leading the Vikings in doubles wins.
Junior Emily Kaczmarek (Glenbard South HS, Lombard, Ill.) joined Panko on the All-CCIW second team. She was third in the CCIW at number two singles and finished the fall with a 9-11 record.
MacDonald finished second in the CCIW at number four singles and posted an 11-5 singles record. She and Sawyer went 10-5 in doubles play with a third-place CCIW finish at first doubles.
Juniors Mariah Bardo (Sterling HS, Sterling, Ill.) and Katie Scharnagle (St. Francis Prep, Lisle, Ill.) were Miedema's number five and six singles players, respectively, for most of the fall. Bardo went 9-7, while Scharnagle posted a 9-6 record and finished third in the CCIW at number six singles.
Sophomores Chelsea Lavin (Downers Grove South HS, Downers Grove, Ill.) and Miranda Pence (Oswego HS, Oswego, Ill.) focused almost exclusively on doubles competition this fall. The duo combined to go 11-8, including 7-4 in dual meet play in the number two slot.
The Vikings resume play in the spring of 2013 with dual meets against St. Ambrose, St. Norbert and Upper Iowa.
2012 CCIW Women's Tennis Championship
Oct. 5-6, 2012 at Oak Brook Park District (Oak Brook Tennis Center)
TEAM SCORES: 1. Wheaton 75; 2. AUGUSTANA 49; 3. Carthage 37; 4. Illinois Wesleyan 29; 5. North Central 21; 6. Elmhurst 14; 7. Millikin 0
Singles
1. Sawyer, Kim (AUGUSTANA) def. Ray, Sarah (Wheaton) 7-5, 6-4
2. Boyer, Kirsten (Wheaton) def. McPeek, Haleigh (Carthage) 4-6, 6-4, 6-2
Kaczmarek, Emily (AUGUSTANA) def. Alex, Helen (Illinois Wesleyan) 8-3 for 3rd place
3. Panko, Krista (AUGUSTANA) def. Schlabach, Lauren (Wheaton) 6-4, 6-4
4. Shults, Marissa (Wheaton) def. MacDonald, Aileen (AUGUSTANA) 6-2, 6-4
5. Carey, Julia (Wheaton) def. Ross, Rebecca (North Central) 6-2, 6-1
6. Buursma, Julie (Wheaton) def. Weber, Holly (Carthage) 6-1, 6-1
Scharnagle, Katie (AUGUSTANA) def. Nelson, Nicole (Illinois Wesleyan) 8-5 for 3rd place
Doubles
1. Ray, Sarah/Buursma, Julie (Wheaton) def. Reynolds, Bari/McPeek, Haleigh (Carthage) 8-4
Sawyer, Kim/MacDonald, Aileen (AUGUSTANA) def. Alex, Helen/Kerwin, Andrea (Illinois Wesleyan) 8-5 for 3rd place
2. Boyer, Kirsten/Shults, Marissa (Wheaton) def. Hendrickson, Erin/Howell, Abbi (Carthage) 8-2
3. Schlabach, Lauren/Nelson, Erika (Wheaton) def. Wethington, Meghan/Panko, Krista (AUGUSTANA) 8-0
2012 CCIW REGULAR SEASON STANDINGS
SCHOOL CCIW OVERALL
Wheaton 6-0 7-1
AUGUSTANA 5-1 8-3
Carthage 4-2 4-4
Illinois Wesleyan 3-3 3-4
North Central 2-4 8-5
Elmhurst 1-5 3-8
Millikin 0-6 0-10
2012 AUGUSTANA SUPERLATIVES
CCIW TEAM FINISH: 2nd
CCIW CHAMPIONS: Kim Sawyer - No. 1 singles; Krista Panko - No. 3 singles
CCIW PLAYER OF THE YEAR: Kim Sawyer
CCIW CHAMPIONSHIP MVP: Krista Panko
ALL-CCIW: Kim Sawyer (1st team); Krista Panko, Emily Kaczmarek (2nd team)
CCIW ACADEMIC ALL-CONFERENCE: Chelsea Lavin, Kim Sawyer, Katherine Scharnagle, Meghan Wethington
CCIW PLAYER OF THE WEEK: Kim Sawyer (9/12/12 & 10/13/12); Krista Panko (9/19/12)
MOST SINGLES WINS: 15 - Kim Sawyer (15-2)
MOST DOUBLES WINS: 13 - Meghan Wethington (13-7)
100-WIN CLUB: 119 - Krista Panko (11th); 118 - Kim Sawyer (tied for 12th)
CAREER SINGLES WINS: 71 - Kim Sawyer (tied for 4th)
CAREER SINGLES WINNING PERCENTAGE: .816 (71-16) - Kim Sawyer (1st)
CAREER DOUBLES WIN: 62 - Krista Panko (tied for 8th)
CAREER DOUBLES WINNING PERCENTAGE: .750 (12-4) - Krista Panko & Meghan Wethington (7th)