October 22, 2012
Three Vikings named to all-CCIW women's tennis team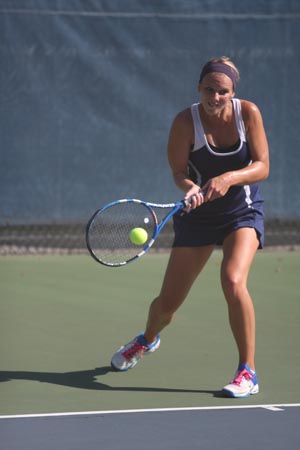 Junior Emily Kaczmarek was named to the second team all-conference team in the College Conference of Illinois & Wisconsin. She joins teammates Kim Sawyer and Krista Panko on the elite squad.
ROCK ISLAND, Illinois - After a highly successful fall season, three Augustana women's tennis players were named to the all-conference team in the College Conference of Illinois & Wisconsin. Junior Kim Sawyer (Batavia HS, Batavia, Ill.), senior Krista Panko (Geneva HS, Geneva, Ill.) and junior Emily Kaczmarek (Glenbard South HS, Lombard, Ill.) were the honored Vikings.
Sawyer was a first team selection for the third year in a row and this year she added the title as CCIW Player of the Year after winning the number one singles title with a 7-5; 6-4 win over Wheaton's Sarah Ray in the championship match. Sawyer is currently 15-2 in singles play heading into the spring season and she was a perfect 6-0 in league action. She was 11-6 in doubles action as well.
She now has a 118-47 overall career record and is now tied for 11th on Augustana's career list. She has 71 career singles' wins and tied for fourth on that list.
Panko and Kaczmarek were both second team selections. Panko was 11-8 overall while playing mostly at number three singles. She was named the CCIW Championship MVP after her performance at the conference tournament championship on October 5-6. She won the individual title at third singles, beating Lauren Schlabach of Wheaton 6-4, 6-4 for the championship. She was 5-1 in conference play. In doubles play this season she posted a 12-4 record at number three doubles.
Like Sawyer, Panko passed the 100 victory mark this season, and she is now 119-87 for her career and just ahead of Sawyer in 10th place on the school's all-time victory list. Her 57 career singles wins put her just outside the top 10 list in that category.
Kaczmarek was 9-11 overall in singles while playing at number two but she was 4-2 in the CCIW and she placed third in the conference tournament. She defeated Helen Alex of Illinois Wesleyan 8-3 in the third place match.
Augustana, under the direction of second year head coach Jon Miedema, finished the fall with an 8-3 overall record and a 5-1 mark in the CCIW. The Vikings, with Sawyer and Panko winning individual league titles at numbers one and three respectively, placed second in the tournament team standings with 49 points.
This is the first time in Augustana women's tennis history that the Vikings have landed three players on the all-conference team.
2012 COLLEGE CONFERENCE OF ILLINOIS & WISCONSIN ALL-CONFERENCE TEAM
First Team (listed alphabetically)
Kirsten Boyer (Wayne, Pa./Conestoga) - Wheaton
Annie Duggan (Arlington Heights, Ill./Prospect) - Elmhurst
Haleigh McPeek (Lake Bluff, Ill./Lake Forest) - Carthage
Sarah Ray (Centennial, Colo./Arapahoe) - Wheaton
Bari Reynolds (Sterling, Ill./H.S.) - Carthage
Kim Sawyer (Batavia, Ill./H.S.) - Augustana

Second Team (listed alphabetically)
Julie Buursma (Holland, Mich./Holland Christian) - Wheaton
Emily Kaczmarek (Lombard, Ill./Glenbard South) - Augustana
Andrea Kerwin (Naperville, Ill./Wheaton-Warrenville South) - Illinois Wesleyan
Krista Panko (Geneva, Ill./H.S.) - Augustana
Lauren Schlabach (Chattanooga, Tenn./Girls Preparatory School) - Wheaton
Marissa Shults (San Antonio, Texas/Alamo Heights) - Wheaton

CCIW Player of the Year
Kim Sawyer - Augustana

CCIW Championship MVP
Krista Panko - Augustana

CCIW Newcomer of the Year
Annie Duggan -Elmhurst

CCIW Coach of the Year
Jane Nelson - Wheaton