October 22, 2012
Vikings and Bees will meet for last time on December 5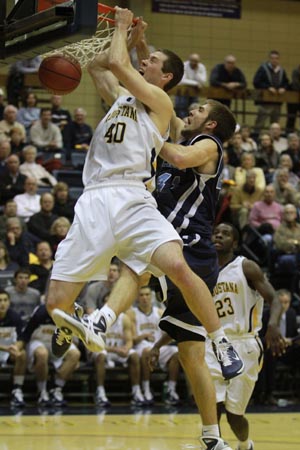 Former Vikings all-conference performer Kyle Nelson hammers down a dunk at the end of Augustana's 80-73 win over St. Ambrose on December 8, 2010. The two Quad City teams will meet for the 94th (and last) time on December 5, 2012 in the Carver Center - ending a series that began in 1912-13 and which Augustana leads 59-34.
The spirited local men's basketball rivalry with St. Ambrose will come to an end for the foreseeable future after this season as Augustana looks to enhance its position in the NCAA tournament selection process. The teams will meet for the 94th time on December 5, 2012 at Carver Center.
Both Augustana Director of Athletics Mike Zapolski and head coach Grey Giovanine expressed regret at having to end the storied rivalry.
"Our decision to not schedule future basketball games against St. Ambrose is based completely upon putting our program in the best position possible to qualify for the NCAA Tournament," said Zapolski. "The current selection criteria place an emphasis on playing games against NCAA Division III opponents, and as a former committee member (2007-10); I can assure you that one additional win can make the difference in the final Pool C (at large) selections. Any of our team sports contending for NCAA post-season play are well-served by playing a complete non-conference schedule against NCAA Division III opponents."
Giovanine added, "We are penalized for playing the St. Ambrose game, regardless of outcome, by the NCAA selection committee, as it leaves us one game short of a full schedule in the way they consider NCAA post-season selection. I regret that the rules discourage us from going forward with what has been a competitive series with local interest, but we have to do what is in the best interest of the students in our program."
The rivalry began during the 1912-13 season with Augustana claiming a 34-22 win. From 1927-28 through 1943-48, the teams played twice each year with the exception of 1944-45, when they did not meet. After a 17-year hiatus, the series picked up again with two meetings each season between 1965-66 and 1970-71. The Bees and Vikings met three times during the 1971-72 season, with Augustana winning all three, including the first game ever played at Carver Center. The teams have met once a year since 1991, with the exception of 2009-10 when St. Ambrose stepped aside, opening up a date for the Vikings to play at Division I Gonzaga.
Augustana holds a 59-34 edge in the series and has won the last four meetings and eight of the last 10.
2012-13 AUGUSTANA VIKINGS MEN'S BA SKETBALL SCHEDULE
| | | | |
| --- | --- | --- | --- |
| DATE | OPPONENT | SITE | TIME |
| November 15 | Aurora | Aurora, Illinois | 7:30 p.m. |
| November 20 | St. Norbert | DePere, Wisconsin | 7:30 p.m. |
| November 24 | Chicago | Chicago, Illinois | 7:00 p.m. |
| November 27 | Wisconsin-Platteville | HOME | 7:30 p.m. |
| November 29 | Wisconsin-Oshkosh | HOME | 7:30 p.m. |
| December 5 | St. Ambrose | HOME | 7:30 p.m. |
| December 8 | Wisconsin-Stevens Point | Stevens Point, Wisconsin | 7:00 p.m. |
| December 11 | Knox | HOME | 7:30 p.m. |
| December 13 | Fontbonne | St. Louis, Missouri | 7:00 p.m. |
| December 16 | MacMurray | Jacksonville, Illinois | 4:00 p.m. |
| December 20 | Loras | HOME | 7:30 p.m. |
| January 2 | *North Park | HOME | 7:00 p.m. |
| January 5 | *Carthage | Kenosha, Wisconsin | 7:00 p.m. |
| January 9 | *Illinois Wesleyan | Bloomington, Illinois | 7:30 p.m. |
| January 12 | *North Central | Naperville, Illinois | 7:00 p.m. |
| January 16 | *Wheaton | HOME | 7:30 p.m. |
| January 19 | *Elmhurst | HOME | 7:00 p.m. |
| January 23 | *Millikin | Decatur, Illinois | 7:30 p.m. |
| January 26 | *North Park | Chicago, Illinois | 7:00 p.m. |
| January 30 | *Illinois Wesleyan | HOME | 7:30 p.m. |
| February 2 | *Carthage | HOME | 7:00 p.m. |
| February 6 | *Wheaton | Wheaton, Illinois | 7:30 p.m. |
| February 9 | *North Central | HOME | 7:00 p.m. |
| February 16 | *Elmhurst | Elmhurst, Illinois | 7:00 p.m. |
| February 19 | *Millikin | HOME | 7:30 p.m. |
| February 22 | CCIW Semifinal | TBA | 6:00/ 8:00 p.m. |
| February 23 | CCIW Championship | TBA | 7:30 p.m. |